Aston Martin Vulcan and Vulcan bomber meet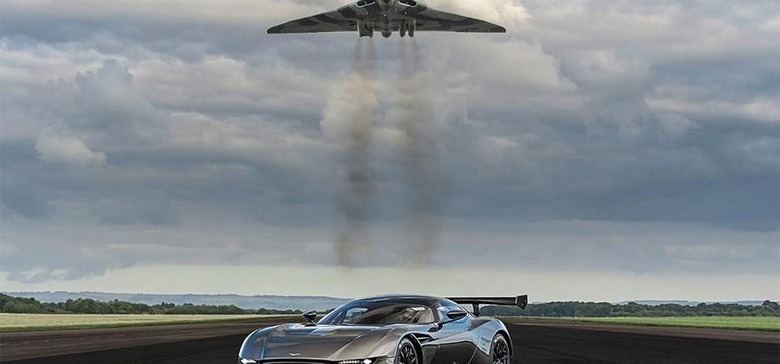 The geek in me likes to think that Aston Martin named its track only beast dubbed Vulcan after Mr. Spock. The reality is that the Vulcan gets its name from a jet bomber called the Vulcan XH558. That jet is currently the only Vulcan bomber left flying and is operated by the charitable trust Vulcan in the Sky.
Aston Martin has offered up a cool new video that has its Vulcan supercar sitting on what appears to be a runway with the Vulcan bomber flying overhead. Vulcan meets Vulcan for the first, and last time. The Vulcan Bomber is being retired from flight this month.
After the Vulcan bomber ends its flight duty, it will be placed in the Vulcan Aviation Academy & Heritage Centre at Robin Hood airport near Doncaster. If you have somehow missed the details of the Aston Martin Vulcan, this car is a track only beast that isn't legal to be driven on the streets.
The car packs a lightweight carbon fiber chassis and 800hp under the hood. It also has all the aero bits to help it stick to the road while moving very fast. Only 24 examples of the Vulcan will be sold around the world. For more details on the Aston Martin Vulcan read our story from when the car was announced.
SOURCE: Aston Martin