Aston Martin Vantage Roadster hits 190 mph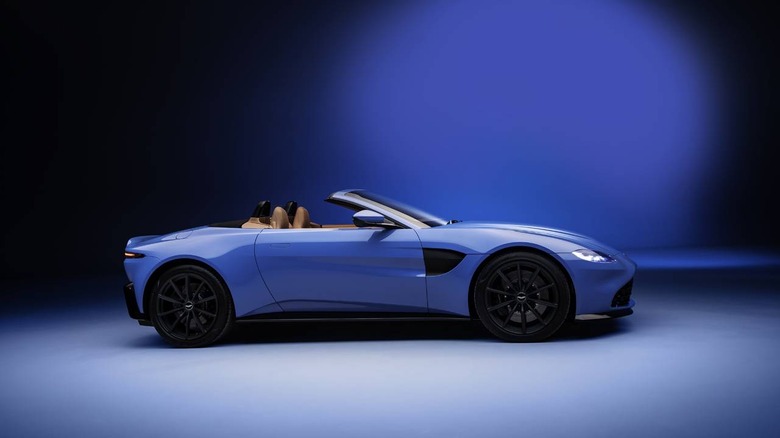 Aston Martin has rolled out a new roadster that slots into its line of cars. The new Vantage Roadster joins the couple in the driver-focused model line. Power for the car comes from a 4.0L twin-turbo V8 that makes 510ps and 685 Nm of torque.
The V8 is paired up with an 8-speed ZF transmission. The car can reach a top speed of 190 mph and can run from 0 to 60 mph in 3.7 seconds. The top has to be up for that top speed. The top grafted onto the Vantage Roadster is a fabric unit that has what Aston calls an ultra-compact mechanism that opens in under 7 seconds.
Aston says that is the fastest fully automatic convertible roof out there. The mechanism is also light with Aston saying that the car weighs only 60kg more than the coupe thanks to the lightweight and fast Z-fold top mechanism. Aston also says that the Vantage Roadster retains the dynamic ability and sporting character that the Coupe offers.
Vantage Roadster rolls with the same Adaptive Damping, Dynamic Stability Control, Dynamic Torque Vectoring, and Electronic Rear Diff that the coupe uses with specific dynamic refinements for the model. The car does have Sport, Sport+, and Track chassis modes that are tuned just for the Roadster.
That fast top can be opened and closed at speeds up to 31 mph. When folded, the top takes little of the car's luggage space. The car has a trunk capacity of 200 liters allowing stowage of a golf bag and accessories. The Vantage Roadster starts at £126,950 in the UK, €157,300 in Germany and $161,000 in USA. Deliveries are set to start in Q2 2020. The new Roadster is certainly an attractive car.