Aston Martin Vanquish spied winter testing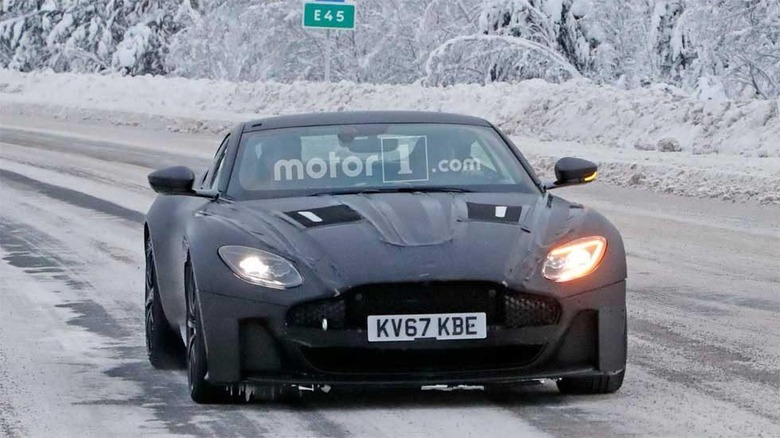 Some new images of the Aston Martin Vanquish have turned up that show the car out testing in the snow. It could well be the only Vanquish to be driven in the snow, as most owners would never commit such a supercar atrocity. The 2019 Vanquish has been spied a few times and is said to differ from the DB11 significantly, especially in the front bumper that offers a more aggressive look.
The 2019 Vanquish has larger hood vents. There is a bunch of tape on the hood that is clearly hiding some other aspects of the design of the car, but most of the car is sans camo. The rear bumper is wearing some tape to hide proportions.
We can see quad exhaust pipes pushed out to each corner of the rear bumper. The weird looking tail lights are thanks to tape hiding their real design. One of the big mysteries of the new Vanquish is what engine will Aston Martin choose.
The Vanquish is expected to land a V12 under the hood and power numbers are expected to be near 700. The outgoing DB11 packed a 608hp V12. The Vanquish is slated to go on sale in 2019. The first official look at the car could come in March at the Geneva Motor Show.
If Aston skips that show for the premiere, the next most likely unveil will come at Frankfurt in September. The unveiling is expected to happen this year, but the timeframe is a mystery.
SOURCE: Motor1