Aston Martin V12 Speedster limited to 88 units globally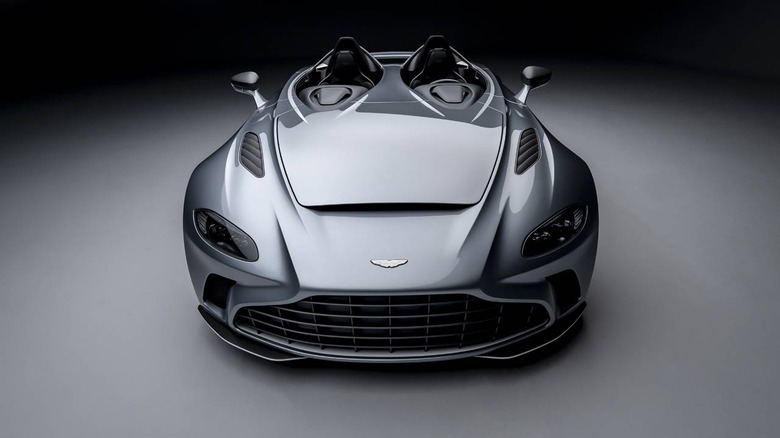 Aston Martin has announced its latest limited-edition ride called the V12 Speedster. The beautiful ride has, according to Aston, an open, uncompromising, visceral two-seat layout. The V12 Speedster was created by the Q by Aston Martin bespoke service. The company says that the design gets inspiration from racing history and aeronautical design.
The version in the images here was designed with an F/A-18 livery. Aston says that the car was conceived a bit over 12 months ago. Aston underwent the development program from drawing board to production in that time. The V12 Speedster is described as a living show car.
The Speedster uses Aston's latest bonded aluminum architecture and elements from both the DBS Superleggera and Vantage lines to create a unique platform. Features include a double-wishbone suspension in front and multi-link rear suspensions with coil springs. Adaptive damping offers Sport, Sport+, and Track modes.
Aston Martin also fitted the V12 Speedster with standard 21-inch forged center-lock alloy wheels and carbon-ceramic brakes. The chassis is almost completely made of carbon fiber. The design has no roof and no windscreen. Designers say the vehicle has a clear linage from the 1959 Le Mans-winning DBR1.
Inside the Speedster uses a mix of satin carbon fiber with hand-crafted saddle leather, chrome, aluminum, and 3D printed rubber. The V12 makes 700hp and 752Nm of torque and is a front mid-mounted unit. The transmission is a ZF 8-speed, and the rear is fitted with a limited-slip differential. Aston says that the car can reach 62 mph in 3.5 seconds with a top speed limited to 186 mph. Orders are being taken now, with pricing starting at £765,000 with deliveries expected in Q1 2021.