Aston Martin unveils V12 Vantage S sports car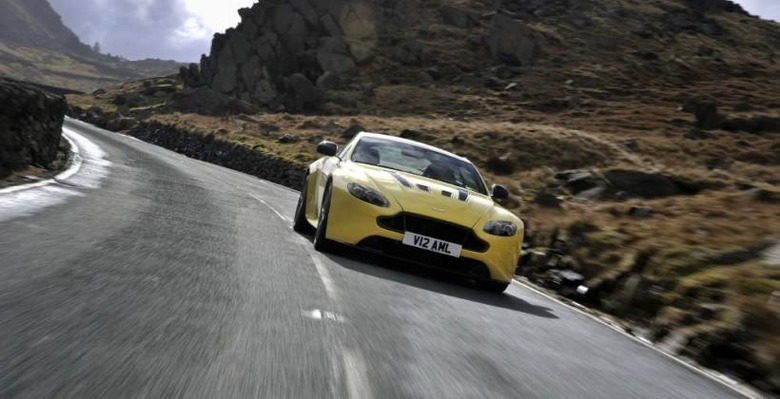 Aston Martin has unveiled the upcoming successor to the V12 Vantage, named aptly the V12 Vantage S. Being hailed as second in speed only to the One-77 hybercar, the V12 Vantage S features a 573 PS Aston Martin AM28 6.0-litre V12 engine, and boasts a top speed of 205mph. A variety of tweaks, updates, and changes have been made over the current model, which is in the process of being phased out. We have the specs after the jump.
The V12 Vantage S features improved torque over the current offering, going from 570Nm to 620Nm up to 5,750 rpm. The low rev torque in particular goes to 1000 rpm at 510 Nm over the previous 440Nm. Such changes are said to improve the car's driveability by "flattening and fattening" the torque curve. Other changes have been made to give the Vantage S a race car edge, such as hollow cam shafts and CNC-machined combustion chambers.
The transmission gets an update as well, going from an auto-manual gearbox to the automated manual Sportshift III AMT transmission. This transmission is controlled via paddle shifters, weighs 25kg less than the current offering, and is hydraulically actuated. Per the announcement, gear changes are fast and cause a torque interruption that can be measured in milliseconds.
The driver can manually switch into a "Sport Mode" option by pressing a button in the center console, which not only changes the timing, gearshift speed, and throttle response, but also alters the exhaust note, allowing owners to "tune the character" of the vehicle. Other changes include a new exhaust system based on the One-77 hypercar, and new ZF Servotronic power-assisted steering.
Said Aston Martin's Chief Executive Officer Dr. Ulrich Bez: "The new V12 Vantage S is, simply, pure Aston Martin. It is extreme in its nature yet truly timeless in its design language. Learning from our successes on the track feeds the development of this type of car and I'm proud to launch such an exciting sports car in this, our centenary year."
SOURCE: Aston Martin