Assassin's Creed Syndicate gameplay trailer tells all pre-alpha release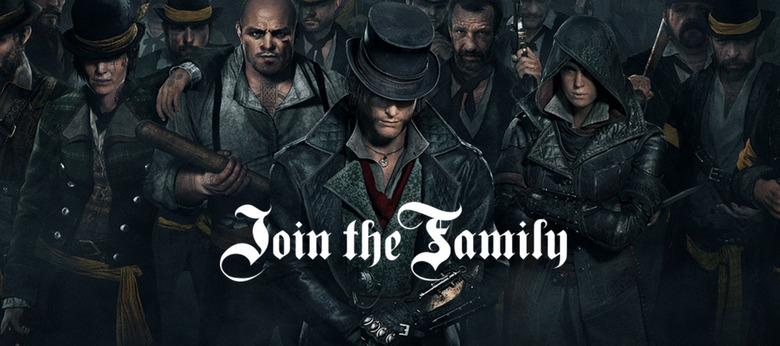 Ubisoft releases the first trailer for Assassin's Creed Syndicate, a game based in London at the dawn of the modern era. This game has you playing as Jacob Frye (or his sister), fighting for justice "on behalf of London's enslaved working class." This game has everything – top hats, Big Ben, underground fight clubs, human skewers on assassin's blades. It's just the works. This game should also take what was with Assassin's Creed Unity and amp it up a level – up to 11. Up to the place where Tower Bridge was born.
First you're going to be seeing the "Debut Trailer" inside the US. This is the first full-length trailer and indeed the first any-length trailer for the game. Look at the outfits. Behold the smoke! Await the inevitable gushes of English rain!
Next you'll see 16-minutes of gameplay. This was released by Ubisoft UK, where they've decided to let you in on how different – or not quite so different – this game is from its predecessors.
It should be clear at this point that this game won't be all that unlike the previous entry as far as side-release merchandise goes. Ubisoft is VERY GOOD at merchandising, and they won't be letting up here – not one bit.
Below you'll see the Assassin's Creed Syndicate Gauntlet and Hidden Blade (a replica of the iconic Assassin weapon), a Home Theater System made specifically for this game's release, and a custom-skinned PlayStation 4.
This game will be released in the Autumn of 2015. It'll be released on October 23rd, 2015, for PlayStation 4, Xbox One, and PC in DVD-ROM form and through Uplay for Windows machines.