Assassin's Creed III gets brutal weapons trailer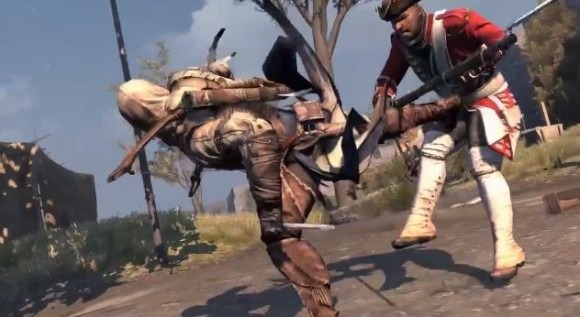 We're just a few short weeks away from the release of Assassin's Creed III, and what better way to ramp up the anticipation than with a bloody new trailer? Ubisoft has delivered a brand new ACIII trailer that provides an up-close look at some of the weapons Connor will be using throughout his adventure. These include his signature tomahawks and hidden blades as well as weapons that are a bit bigger, like a battle axe.
Yes, players will be able to use a freaking battle axe in Assassin's Creed III. Also on display in the trailer are a musket, a bow and arrow, and Connor's rope darts. Basically, you probably won't experience a shortage when it comes to the weapons you'll be using to kill red coats and yanks alike.
The launch of Assassin's Creed III is coming up pretty quickly here, with the Xbox 360 and PS3 versions of the game releasing on October 30. The PC version will follow on November 20, while Assassin's Creed III will be a launch title for the Wii U, which releases in the US on November 18. To make the deal even sweeter, Assassin's Creed III is built on the AnvilNext engine, which is a new engine that promises some impressive visuals and environmental effects.
Indeed, a lot of players are excited for Assassin's Creed III, mostly because it looks to offer an exciting spin on the series. After Assassin's Creed: Revelations, players were getting a little tired of playing as Ezio, but in Assassin's Creed III we get a new protagonist in a brand new setting. It doesn't get much better than that, and we're excited to get our hands on a copy. Are you?