ASRock ION 330-BD Nettop Review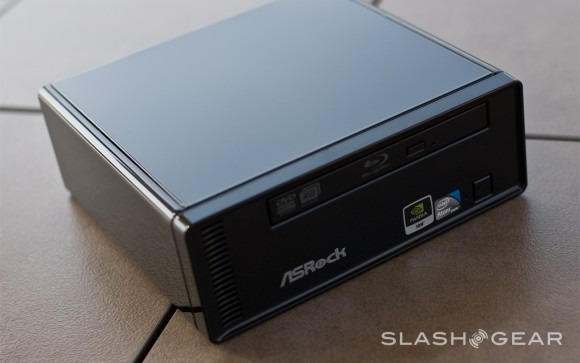 Where netbooks go, their deskbound nettop brethren eventually follow, and as NVIDIA's Ion GPU has made its impact on the graphics capabilities of budget ultraportables, so it has its sights set on compact desktops too. ASRock and NVIDIA worked together on the ION 330-BD, a Blu-ray toting nettop that pairs Intel's Atom processor with NVIDIA's ION platform, and sent one over to prove to SlashGear that just because the footprint is small, it doesn't mean the performance is too.
First impressions are good, with the ION 330-BD a compact 195 x 70 x 186 mm box finished in high-gloss black paint. The front panel is relatively bare, save a narrow vent, slimline Blu-ray drive and power button, with all the ports around the back. There's no shortage of them, either; ASRock have squeezed in a full six USB 2.0, together with both VGA and HDMI (supporting HDCP), S/PDIF optical audio output, three connectors for HD 5.1 audio, and gigabit ethernet. The slab-sided casing may not have the curves of some rival nettops, but it does mean the ION 330-BD can be positioned upright without needing an add-on stand.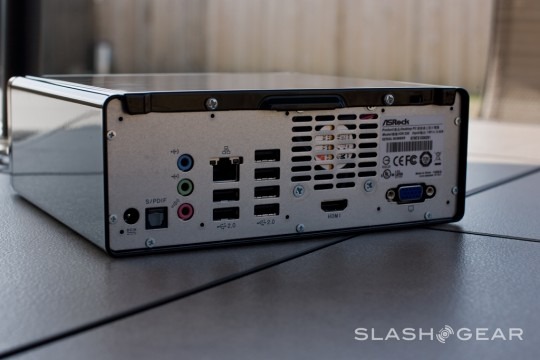 Inside, unlike the Acer Aspire Revo – one of the first NVIDIA Ion toting nettops to arrive on the market, but which was criticised heavily for its lackluster non-graphics performance – ASRock have fitted Intel's Atom 330 dual-core processor rather than their single-core 230. Both chips run at 1.6GHz, but with the benefit of not only two cores but hyperthreading, the 330 can present four effective threads for service; not only that, but ASRock supply their EZ Overclocking BIOS app, which allows you to stably ramp the CPU up to over 2GHz. Of course, the real meat in this particular nettop is the NVIDIA Ion chip, which deserves a little explanation.
Nettops and netbooks have generally paired Intel's Atom processors with the company's own 945G chipset, which while capable enough for internet browsing, basic media playback and standard Office applications falls well short of high-definition content. ASRock instead match the Atom 330 up with the Ion, which not only takes on the the graphics side – the same graphics, in fact, as the GeForce 9400M that you'll find in many notebooks, including models from Apple's MacBook Pro range – but northbridge and southbridge duties too. The company then throws in 2GB of DDR2 dual-channel memory (up to 4GB is supported) and a 320GB 2.5-inch 5,400rpm SATA 3Gb/s hard-drive.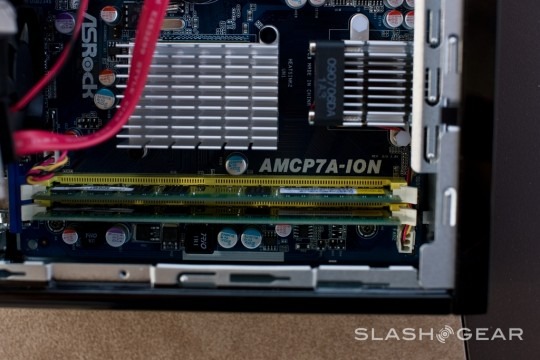 To keep costs down, ASRock supply the ION 330-BD without an OS, expecting buyers to either install their own or resellers to offer OEM copies at checkout. Our review model was loaded with the Windows 7 RC, together with PowerDVD 9 with Blu-ray support and Media Player Classic. It's important to note that both of these playback apps have full support for NVIDIA's GPU hardware acceleration; otherwise, playback will rely solely on the Atom processor rather than take advantage of the Ion.
We started off running benchmarks in GeekBench, as is our normal course of action in a computer review. The ASRock scored 1222 points overall, respectable for a nettop; remember, though, that GeekBench only measures processor and memory performance, not GPU, so the Ion had no say in things. Still, it does better than Lenovo's similarly 330-based IdeaCentre C300 which has twice the RAM (though it's slower, at 533MHz, than the ASRock's 800MHz chips) but only scores 1080.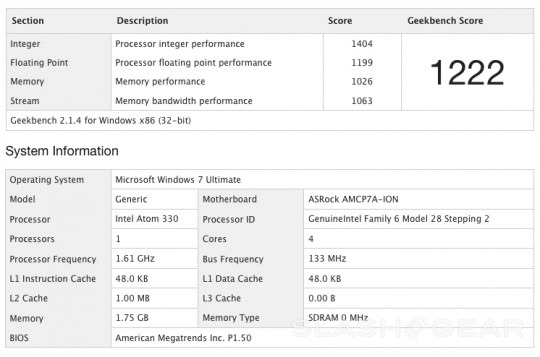 To test out the NVIDIA side of the game, we threw some high-definition content at the ION 330-BD. Fitting a Blu-ray drive invites 1080p playback, and the ASRock certainly doesn't disappoint. We hooked up a Full HD display via HDMI (an HDMI-to-DVI adapter is also supplied in the box) and enjoyed flawless, smooth video that left the CPU with plenty of headroom. The same was true when we tried a high-def video file played from the hard-drive, the ION 330-BD instantly cementing its position as a compact HTPC. Even during playback noise and heat from the system are both low, and ASRock's quick-start app – which basically acts a sort of low-power standby mode, and boots back up to a working desktop in under ten seconds – made the nettop faster to play Blu-ray discs than some standalone decks we've seen.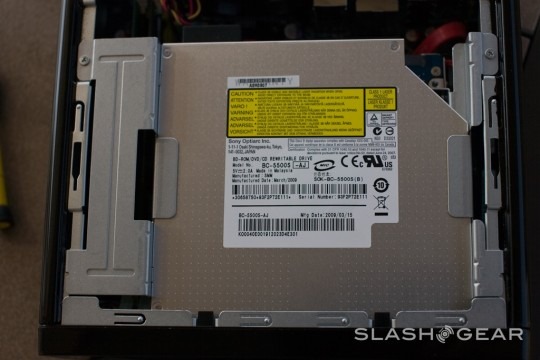 As for audio, there are plenty of options from using the ASRock's onboard decoding through the separate S/PDIF output and then HDMI audio pass-through. Unfortunately, while Dolby Digital 5.1 and 7.1 surround sound are supported, there's no capacity for Dolby TrueHD or DTS-HD Master Audio pass-through, instead compressing them. It's not something we noticed, however, and in use the nettop provided excellent sound quality.
Media playback is one thing, but Ion has also been causing waves for its gaming credentials too. The ION 330-BD's showing here isn't quite as impressive as its 1080p outing, since games generally rely on a combination of graphics and processor performance, but you're certainly able to do more gaming than you would on a standard all-Intel nettop. ASRock and NVIDIA claim to have tested sixteen modern games – including Call of Duty 4, Lego: Batman, Sims 3 and Left 4 Dead – with no problems pushing over 27fps at 1,024 x 768 resolution. We found the nettop certainly put in a decent showing at the titles we tried it with, though we'd still point you in the direction of a decent gaming PC or console if that's going to be your primary use.
In terms of what we'd change, issues are happily few and far between. The compact chassis has meant ASRock used a 2.5-inch hard-drive, which does limit capacity upgrades; that wouldn't be so frustrating if the ION 330-BD didn't do such a decent job as an HTPC. Still, we can live with a (current) maximum of 500GB onboard, and relying on a NAS – connected up with gigabit ethernet – for external storage. It might also be nice to see a couple of the nettop's six USB 2.0 ports up front, rather than all clustered on the back panel, for plugging in external drives and other peripherals when the ION 330-BD is tucked underneath your TV. In a similar vein, it seems a little shortsighted not to add a multiformat card reader for viewing images and footage from digital cameras and camcorders.
Still, when the MRSP is $499 for the Blu-ray toting model, it's hard to argue too loudly about relatively minor issues such as these. A non-Blu-ray version is available for around $100 to $150 less, but unless you're totally digital in your entertainment consumption we'd splash out on the more expensive model. It's still well within the price bracket for a modern compact desktop, many of which will give you a slightly better processor at the expense of less capable graphics.
NVIDIA's Ion chipset turns the humble Atom nettop into a versatile, surprisingly capable PC that overcomes the limitations of today's small form factor systems. The ASRock ION 330-BD isn't for power users, certainly, but if you're looking for a quiet, discrete, reasonably priced and above all well performing home media center or all-around everyday PC then it's definitely worth considering.