Ashton Kutcher pegged to play Steve Jobs in inde pic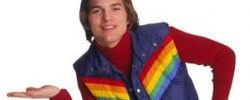 With Steve Jobs' passing last year I think we all knew movies about life of the man behind Apple would be coming. There are in fact two different films about the life of Steve Jobs headed to theaters at some point. Ashton Kutcher will play Jobs in the independent production about the life of Steve. The movie will be called "Jobs."
It will be directed by Joshua Michael Stern, who directed "Swing Vote" and the scriptwriter is Matt Whiteley. The film is tipped to Chronicle Steve from his time as a so-called hippie the to the co-founder of Apple. It's not clear if the film will follow Steve's life any further than the founding of Apple or not.
The movie is set to start filming in May when Kutcher's sitcom Two and a Half Men is on break. The big-budget film chronicling the life of Steve Jobs is being made by Sony Pictures. That film is based on the book written by Walter Isaacson has sold in droves.
[via Variety]