As Vegas shooting news shows, Google and Facebook are failing you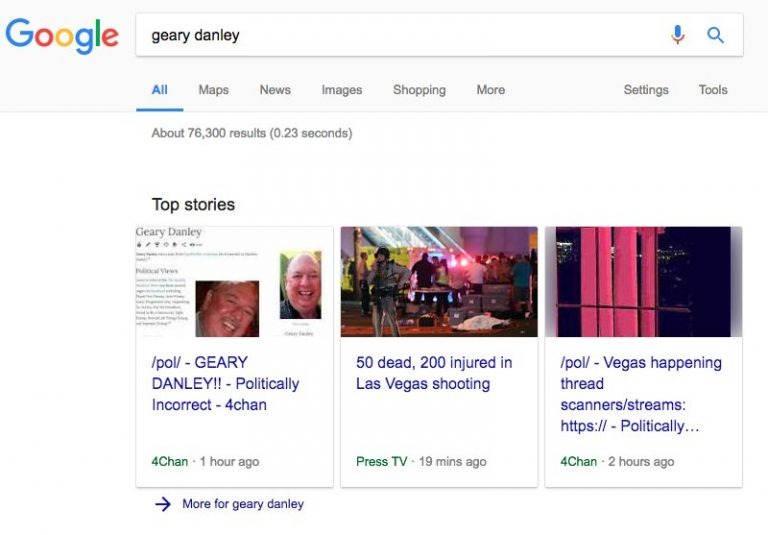 Google and Facebook have faced renewed criticism today, over their promotion of "fake news" in the aftermath of the Las Vegas shooting. In Google's case, the search giant was found to be including misleading pages from the controversial 4chan message board among its "Top stories" for results for incorrect speculation around the shooter's name on Monday morning. The company has blamed its algorithm for the mistake.
While law enforcement later went on to identify the gunman at Stephen Paddock, 4chan members had mistakenly claimed it was actually Geary Daniel that was responsible. Searches for that name brought up the forum thread in question, Gizmodo reports.
Google says that despite the mistake it was only visible "for a small number of queries" and that it had been eventually "algorithmically replaced" by more relevant results. Nonetheless the link was still there for hours, by Google's own admission. In a statement, the company says it will be adjusting its software to better handle such incidents in future.
"Unfortunately, early this morning we were briefly surfacing an inaccurate 4chan website in our Search results for a small number of queries. Within hours, the 4chan story was algorithmically replaced by relevant results. This should not have appeared for any queries, and we'll continue to make algorithmic improvements to prevent this from happening in the future." Google
Meanwhile, Facebook has also been criticized for its article selection. The company's "Safety Check" page is often cited as a useful place for those potentially affected by terrorist attack's like Sunday's to mark themselves as safe for family and friends. However it also includes news reports for those wanting to get up to speed on what is going on.
It's those which have brought Facebook a headache this morning. The social network put far-right news posts at the top of its page, which alleged the shooter was motivated by left-leaning beliefs. Later, TechCrunch reports, it switched that to a video from a news aggregation service described as "clickbait."
For its part, a Facebook spokesperson blamed an inadvertent delay in the post being internally identified and then removed, giving users time to screenshot the results. The company says it too will be addressing the processes and software that allowed its tool to be misled in this way.
"Our Global Security Operations Center spotted the post this morning and removed it. However, its removal was delayed by a few minutes, allowing it to be screen captured and circulated online. We are working to fix the issue that allowed this to happen in the first place and deeply regret the confusion this caused." Facebook
For social media companies, there's been increased attention on not only how their algorithms select which articles to include, but how they deal with incorrect articles, whether intentional "fake news" or genuine mistakes. Twitter has pushed back against criticism over the past few days over how it handles accounts sharing wrong information and offensive content. As a backdrop, the ongoing Congressional investigation into Russian hacking and manipulation around the US election last year has prompted some to suggest Google, Facebook, and Twitter – among others – have not done enough to control misuse of their networks.