Today is a big day for Fallout fans and Bethesda alike, as the beta for Fallout 76 begins on Xbox One. Fallout 76 is a pretty big release for Bethesda, as it ventures into what is uncharted territory for the company: multiplayer. Bethesda's biggest franchises, The Elder Scrolls and Fallout, have traditionally been single player ones, but Fallout 76 turns all of that on its head by being a multiplayer-only game.
To say that Bethesda and its fans are nervous about this launch is probably understating it a bit. That much, at least, is reflected in a note Bethesda penned to its fans and published as we approach the kick off time for Fallout 76's beta. You can view the note below, but in it, Bethesda thanks the Fallout faithful for following it down this road as it experiments with multiplayer.
"In 2015, we decided to try something very new, and very scary for us – take one of our worlds and make it online only," the letter reads. "Once the idea of 'Fallout-Online-Survival-Game' stuck, there was no turning back, but still some worry and questions. 'Will people want this from Fallout? Will they want it from us? How the hell are we going to make this? And what, exactly is this?'"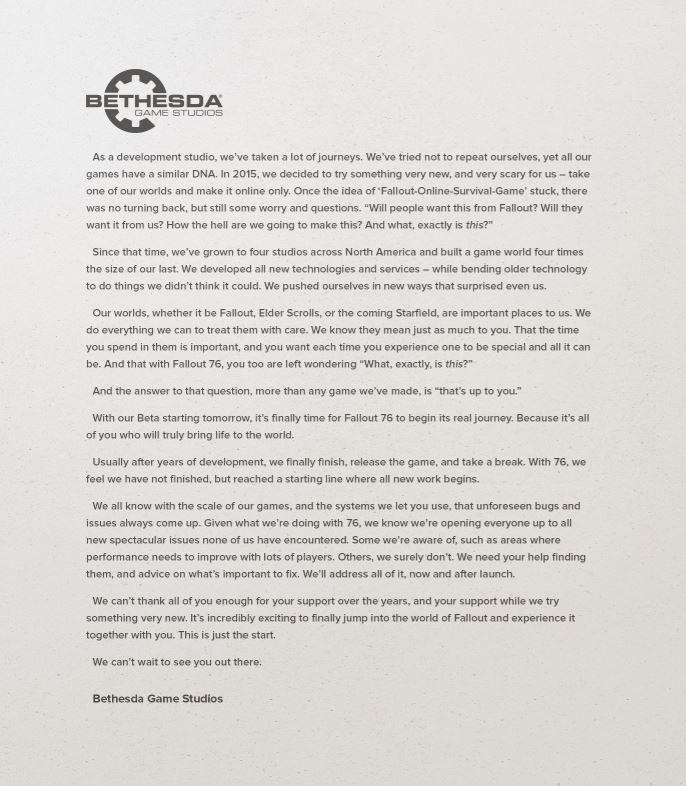 Bethesda reveals the answer to that final question later on in the letter, stating that Fallout 76 will be whatever players want it to be. Bethesda also suggests that it's nowhere near finished working on Fallout 76, rather viewing its upcoming launch as "a starting line where all new work begins." So, we can expect Fallout 76 to evolve further as time goes on, as most online only games do.
If you've pre-ordered the game on Xbox One and you're itching to check it out, you'll have your chance later today. The Fallout 76 beta runs from 7 PM Eastern to 11 PM Eastern today, but keep in mind that the beta is exclusive to Xbox One for the time being. We'll see it come to PlayStation 4 and PC next week, with the full game launching on November 16.