Armored Audi RS7 is the fastest armored car around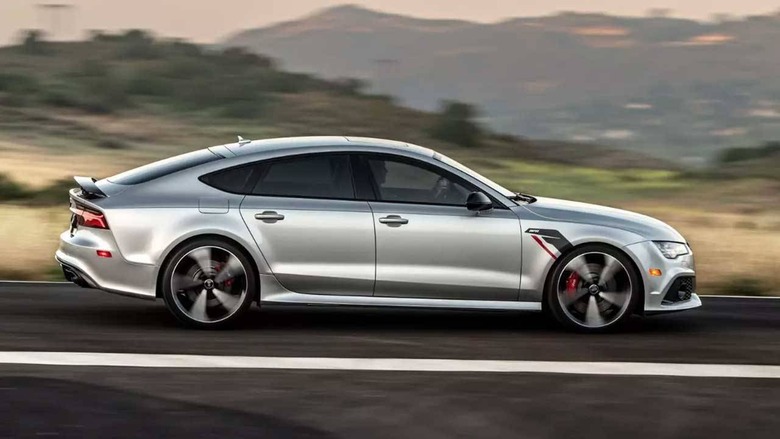 When most people think of an armored vehicle, they think of the trucks that drive money around for banks or military vehicles. A company based in Wyoming called AddArmor has created what it claims to be the world's fastest armored vehicle. The car it chose for its bulletproof creation is the Audi RS7.
The car is covered with AddArmor's in-house paneling and ballistic glass to create a speedy and safe armored vehicle. The armor package for the vehicle includes polycarbonate body panels and ballistic glass with layers of polycarbonate through. The panels are said to be ten times stronger than ballistic steel and to weigh 60% less.
The company claims its armor adds protection from blunt objects like bats and cinder blocks. It can also withstand firearms and can stop a .44 Magnum round. The additional weight of the armor adds a mere 200 pounds to the weight of the RS7.
The Audi is still very fast thanks to a special performance package that makes 760hp and 800 lb-ft of torque. That gives the car a very fast 0-60 mph time of 2.9 seconds. The top speed for the car is 202 mph. The tires on the ride are Pirelli P Zero Run Flat units able to continue operating for 30 miles after being shot multiple times with a rifle.
The car also has some offensive weapons right out of James Bond films including a sonic sound cannon and a 120-decibel siren. The car has electric-door shock handles and pepper spray dispensers. The front bumper has a barrier built in to protect against ramming, and an ultra-bright lighting system is designed to blind attackers. The trunk holds biometric gun racks for assault rifles and handguns. A Global 911 concierge service also sends security staff if needed. The AddArmor RS7 is available now for $205,000.