Armani jumps into wearables with Emporio Armani Connected line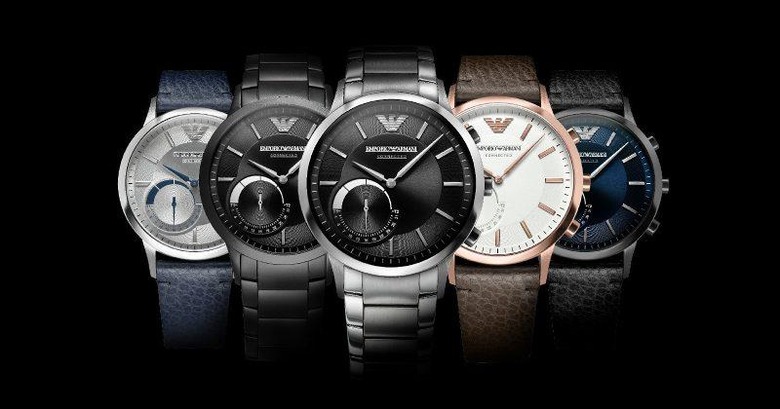 Previously seen as the domain of geeks and technophiles, fashion brands have started marching into the wearable and smartwatch market, though at different degrees. While some, like TAG Heuer, have dived head first into full smartwatches, others, like Armani's modern and trendy Emporio Armani brand, are taking a half step instead. The new Emporio Armani Connected line of "hybrid smartwatches" aim to offer the amalgamation of classic, stylish, and expensive timepieces with the strapping of modern wearables, particularly that of keeping track of your activities.
You've probably heard of the spiel before. These hybrid smartwatches dance over the fine line that separates a traditional watch from a smartwatch. In most cases, these come in a classic design, with an analog watch face and mechanical parts, but with hidden motion sensors and Bluetooth to communication with smartphones.
Indeed, this EA Connected watches offer that same combo, with a premium metal cases and leather or link straps, rose gold or silver hands, and a textured face that shouts "Armani". But they can also track your walks and even sleep and offer subtle notifications for calls and messages.
There are, however, a few features you won't easily find in hybrid smartwatches, especially the expensive kind. EA Connected watches can control your smartphone's music playback as well as its camera, acting as a remote shutter button. It can even help you locate your smartphone if you misplaced or forgot it. But perhaps best of all, this watch doesn't even need charging, as the quartz batteries powers everything.
The Emporio Armani Connected hybrid watches are now available online and from select stores around the world, in rose gold, black, gunmetal, and stainless steel trims. The watch is compatible with both iPhones and Android devices.