ARM Cortex-A73 CPU, Mali-G71 GPU have VR and AR in their sights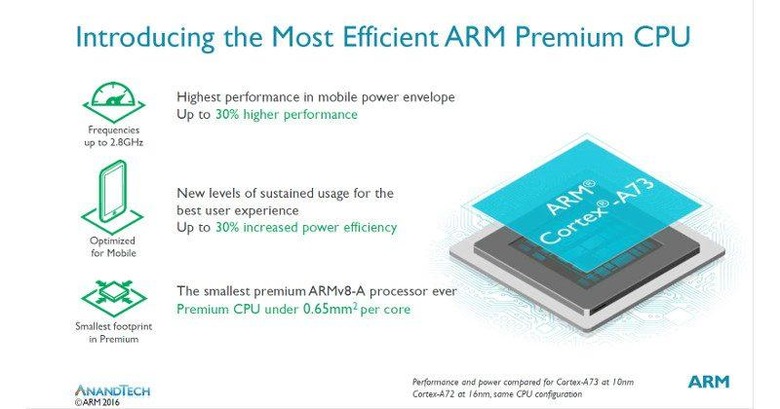 Despite a noted slowdown in shipment and sales, smartphones remain the fastest growing device market today and outnumber PCs even. However, smartphones have ceased to be mere communication devices and have even started venturing into uncharted and indirectly related territory, like virtual reality. In order to address the nascent but growing "synthetic" reality market, ARM Holdings has announced new chips, specifically the new 10 nm FinFET Cortex-A73 CPU and the Mali-G71 GPU. While they naturally benefit mobile devices in general, they are being poised to be well-suited to address the processing needs of virtual and augmented reality applications.
Number-wise, the Cortex-A73 might seem like a small increment over the current Cortex-A72 generation, but that is terribly misleading. The jump from 14 nm to 10 nm alone is already a substantial one that will have computing and engineering enthusiasts filled with glee. Aside from the smaller size, 0.65 mm2, making it the smallest 64-bit ARMv8 "big" core in a "big.LITTLE" arrangement, the Cortex-A73 also offers increased performance and efficiency over its predecessor. It can be clocked up to 2.8 GHz, the highest so far, and has 30% improvement in both performance and power efficiency.
Perhaps more interestin in the VR/AR context is the Mali-G71 GPU. It is a significant upgrade to ARM's current GPU titleholder, the Mali-T880. The Mali-G71 has double the shading cores at 32, boasts of a 50% performance boost, and a 20% increase in power efficiency. ARM even claims that the chip surpasses the output of discrete GPU's in mid-range laptops today, which would be no small feat if proven to be accurate.
The combined powerf of the two would definitely make implementing virtual reality platforms and programs easier. Of coure, in this mobile context that would means smartphones that provide both display and computing power to a VR headset, like the Gear VR and Google Cardboard, for example. It is also entirely possible for some OEM to create a standalone headset powered by these new ARM chips in the future.
ARM's partners, both chip makers and device manufacturers, have already rallied behin the new Cortex-A73 and Mali-G71, including MediaTek and Samsung. The latter is an interesting partner has Samsung is noted to be planning to make its own mobile GPU to pair with its Exynos. Notably missing is Qualcomm, who has recently returned to using its own cores in the Snapdragon 820.
Image courtesy of AnandTech
SOURCE: ARM