Arlo Ultra wireless camera adds 4K HDR and security floodlight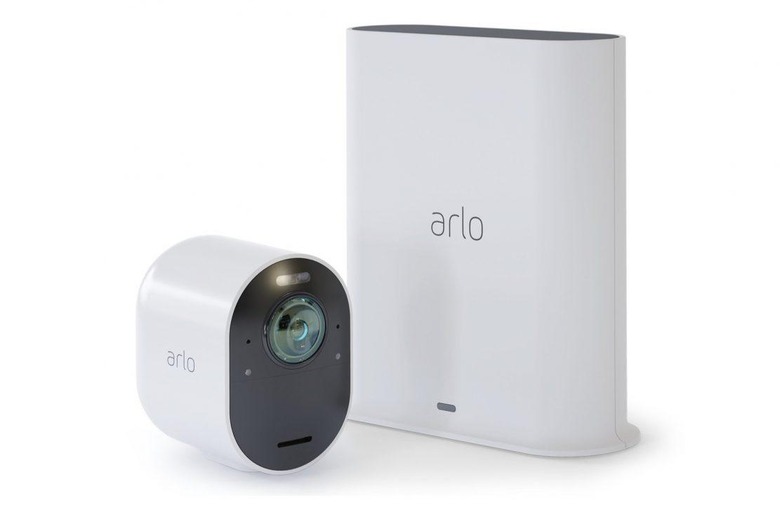 Netgear's Arlo home security camera range is getting a brand new model, with the Arlo Ultra including not only 4K HDR resolution support but a floodlight too. Joining the rest of the wireless, battery-powered Arlo cameras, the new model is weather-resistant for indoor and outdoor use.
As with the other Arlo cameras, ease of installation is a big selling point for the Arlo Ultra. A new magnetic mount should make it even more straightforward, in fact. That will support positioning the Arlo Ultra suspended from ceilings and eaves, on walls, or indeed on tables or other flat surfaces.
A rechargeable battery is included as standard, and there's a new, weather-resistant charging cable that attaches magnetically. It too can be used indoors or outdoors.
The camera itself has a 4K Ultra HD sensor, with support for high-dynamic range (HDR). Arlo is pitching that as delivering more detail in captured videos, which could pay dividends if you need to see the face of an intruder or the license plate of an unknown car. There's also a 180-degree diagonal field of view.
Color night vision is supported as well, unlike the monochrome still commonplace on most home security cameras. That relies on the new integrated spotlight, which uses LEDs to light up dark gardens or rooms. Netgear has used two microphones, with active noise cancellation to minimize background sounds and help accentuate voices and other sounds in the foreground.
In the box will not only be the Arlo Ultra camera itself, but the company's nw Arlo SmartHub. That hooks up to your router, and gives extended WiFi rang to Arlo cameras. It also promises better stability, courtesy of having all of the cameras on their own secure network. A microSD card slot supports local storage of video clips.
As you might expect, the Arlo Ultra isn't going to be cheap. As a 1-camera set, complete with both a single camera and the Arlo SmartHub, it'll be priced at $399.99, in fact.
However, that will also include a year's subscription to Arlo Smart Premier, usually priced at $119.88. That uses AI and computer vision to differentiate between people, animals, vehicles, and packages, along with support for up to 1080p video storage for up to 30 days. If you want to save 4K video, meanwhile, that can either be done on a microSD card in the Arlo SmartHub, or by adding a 4K subscription to Arlo Smart Premier.