Aria remote navigates your smartwatch with getsures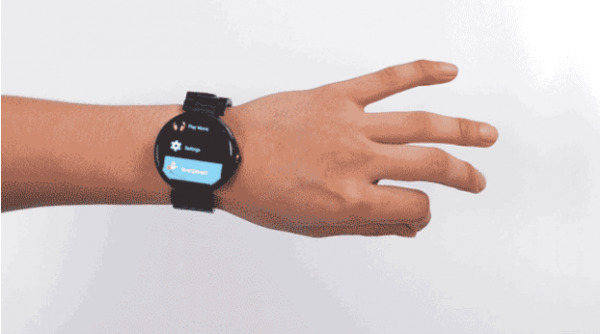 It takes two hands to access all of the features that a smartwatch has to offer. If you are carrying heavy bags, cooking, or otherwise have your hands full, a smartwatch's functionality is basically off-limits. Soon, a new smartwatch remote control could let you operate your apps without ever having to touch the smartwatch screen. Aria, under development by Deus Ex Technology, wants to give you the ability to control your smartwatch by one-handed gestures.
Aria, which means "air" in Italian, reads gestures by measuring and analyzing wrist movement. Even fingertip gestures translate movement to the wrist, allowing motions like finger tapping and flicking to be read as commands by Aria. The device consists of a thin, black, silicone remote that slips under your smartwatch band, against your wrist.
Aria lets you decide what each gesture control does with its SDK (software development kit). Using the band's configuration app, you can assign commands to various motions. Although the band isn't directly compatible with Apple Watch apps, the SDK is iOS compatible. In theory, you could attach Aria to your Apple Watch and use gestures to control your iPhone or connected devices.
In the video, Aria is paired with the Moto 360 smartwatch. The gestures are subtle, so you won't look like you're conducting an orchestra as your scan through your notifications; but, the gestures also seem repetitious enough to bring about a repetitive stress injury like carpal tunnel. Either way, it's a unique third-party accessory compatible with Android Wear and Pebble Time.
The company is planning a Kickstarter with two versions: a purpose-built (without SDK) unit for Pebble Time for $69 and a higher-end, developer-level model for $169.
Source: Tech Crunch