Arecont Vision launches AV3135 dual sensor H.264 camera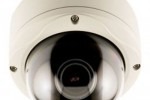 Keeping an eye on your home or business 24 hour a day can be a challenging prospect for surveillance cameras. Some cameras offer great daytime picture quality while others offer inferior daytime performance in exchange for improved nighttime and low light sensitivity.Arecont Vision has announced a new camera for surveillance applications that combines top night and day camera technology into one dual sensor device. The AV3135 dual sensor H.264 day/night camera has two 1/2-inch sensors inside. One of the sensors is a 3MP color sensor and the other is a 1.3MP black and white sensor.
The individual pixels on the black and white sensor are larger for better performance in low light. The black and white sensor is also infrared sensitive to allow the camera to record in total darkness illuminated by infrared light. The camera records video in H.264 format and can switch between day and night modes automatically.