Are you ready for Super Bowl XL III Ads in 3D?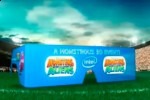 You wouldn't be able to witness the post-session greatest pair-up, Fitzgerald/Warner against the league finest safety, Polamalu, on the upcoming Super Bowl XL III in 3D; No, the game will not be airing in 3D, but the national largest live sport event will be featuring two 3D commercials during the break. To view the 3rd dimensional broadcast, you'll need the dorky looking wearable 3D optics to decode the video content. I4u has gathered up a valuable information on the featuring 3D ads, including a list of places where you can pick up the goggle before the game.
Two programs set to launch in the Super Bowl XL III are "3D Monsters vs. Aliens" and "SoBe 3D spot" at the end of the second quarter. An estimated 125 million pairs of 3D glasses at 25,000 locations such as any SoBe displays in super markets will be provided, for free and is yours to keep after the game. If you are a fan of NBC's comedy "Chuck", keep the goggle, NBC will be airing Chuck in 3D on the night of February 2, 2009. If you can't locate any in the outskirt of your town, dial 1-800-646-2904 to obtain one.
"The 60-second SoBe Lifewater spot, directed by Super Bowl commercial veteran and brand architect Peter Arnell, will mark arguably the first ever Super Bowl ad cross over event – with the SoBe Lizards sharing the screen with characters from the upcoming DreamWorks Animation film that will be showcased in the pod's preceding spot. The SoBe Lizards and stars from DreamWorks' "Monsters vs. Aliens" will dance alongside current NFL stars as well."
List of local shops where you can get the 3D glasses

Meijers (to be available on the day of the Super Bowl)

Target (to be available on the day of the Super Bowl)
Super Bowl 3d ads promo video