Arctic unveils Accelero Hybrid video card cooler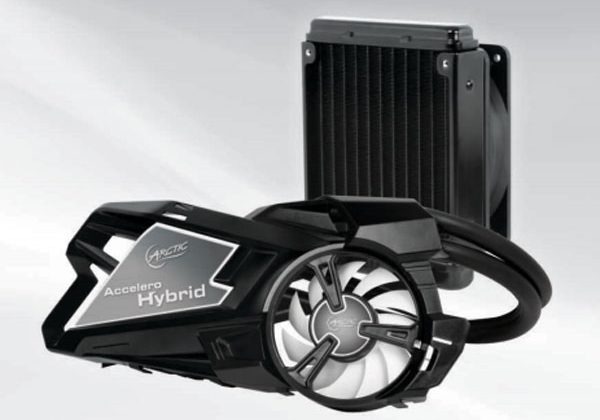 If you're a computer enthusiast, you know that the cooler your hardware runs, the more stable your computer will be and the higher you can overclock key components like the processor and your GPU. Arctic (PDF) has been around for a long time offering all manner of coolers using air or liquid to keep your machine running cool. The company has a new and interesting cooler for your graphics card that uses both air and water for the ultimate cooling.
The new cooler is called the Accelero Hybrid, and it features an attached pre-filled radiator that uses a 120mm fan capable of 400 to 1350 RPMs. The smaller 80mm fan blows directly onto the hot video card components while the water block cools GPU directly. The video card cooling fan is an 80 mm unit capable of 900 to 2000 RPMs.
The hoses that connect to the GPU block are designed to allow the fan and radiator to be attached to the back of the case or the front of the case into a standard 120 mm fan location. It appears the device will clear some of the larger vertical CPU heat sinks out there as well. The water block the radiator uses to fit the GPU has a copper base. The Accelero Hybrid will ship on May 29 at an undisclosed price.