Archos Platinum tablets unveiled with A9 quad-core processors and IPS displays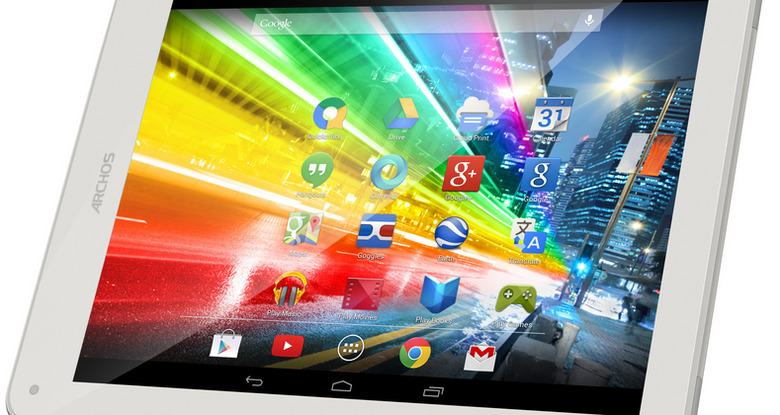 Archos has taken the wraps off a trio of new tablets, the Archos 97b Platinum HD, 101 Platinum, and 80b Platinum. All three tablets are equipped with A9 1.6GHz quad-core processors, 2GB of RAM, and IPS displays. All three are currently slated to hit shelves this month, though a specific date and price tags haven't been provided yet.
The Archos 80b measures in at 8-inches with a resolution of 1024 x 768, while the Archos 97b Platinum is a bit larger at 9.7-inches with a high resolution of 2048 x 1536. The Archos 101 Platinum is the largest of the bunch, with a screen size of 10.1-inches, while the resolution is lower at 1280 x 800. Archos is promising crisp sharpness and vivid colors, as well as extra-wide viewing angles.
All three laptops have 8GB of internal storage space, as well as a microSD expansion slot. Likewise, the trio are loaded with Android 4.2 Jelly Bean, dual-band WiFi, and Bluetooth. The 101 Platinum model adds GPS on top of the above, while the 80b model has only 1GB of RAM rather than the 2GBs equipped in the other two models. All three also have a micro USB 2.0, a standard 3.5mm audio jack, and a rear 2-megapixel camera. The 80b and 101 models have a .3-megapixel front camera, while the 9.7-inch one has a 2-megapixel front camera.
Archos' CEO Loic Poirier said: "It is our intention to strengthen [our company] philosophy by directly challenging the current leading tablet brands with a high quality product that has the best specs and aesthetic design available at a lower price. The combination of features and design of the 97b Platinum HD and 101 Platinum tablets will put them in front of the iPad 4 and Galaxy tab 3's at a better price."
SOURCE: Archos [PDF]