Archos joins the enterprise fray with GranitePhone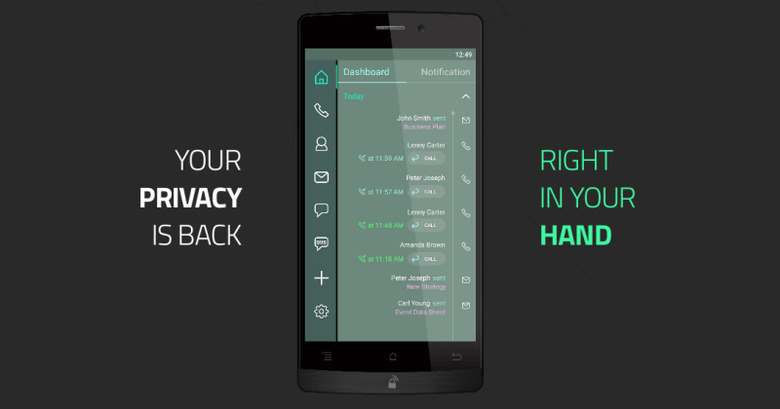 With the launch of Silent Circle's privacy-focused Blackphone 2 and the upcoming fully Android BlackBerry Priv, Google's spiel of Android for Work is suddenly becoming more interesting. Trying to capitalize on this still nascent market, Archos has joined forces with communications and security company Sikur to bring out the GranitePhone. Like the aforementioned smartphones, this Android handset has security and privacy in mind, which is especially enticing for an enterprise scenario. The one catch is that it does thing slightly differently from what others are doing so far.
When it comes to security and privacy on smartphones, the likes of Silent Circle and Samsung employ a similar tactic. They create silos, protected and isolated compartments for data and activities. This method ensures that work and personal life do not mingle and that if the personal side, which is most often the weakest link, is compromised, work data remains secure and untouched.
In contrast, the GranitePhone utilizes Sikur's platform, which, in essence, is a cloud-based platform that employs encryption and multiple layers of authentication in order to implement security and privacy. It doesn't create separate silos on your device but is instead itself the lone silo. For users who want to maintain multiple security compartments, that might be a limitation. But for a work environment that prefers to keep a tight rein on office communication and documents, that might just be the right solution.
Sikur isn't actually a platform unique to the GranitePhone nor to Android for that matter. It is actually a cross-platform solution that spans multiple devices. The advantage of a GranitePhone, then, becomes the built-in integration with Sikur. Sadly, the smartphone itself isn't all that from a consumer perspective. The 5-inch display maxes out at a Full HD resolution. The device is powered by a mid-range Qualcomm Snapdragon 615 and has 2 GB of RAM. There is 16 GB of internal storage only, with no indication of a microSD card slot. The rear camera does boast 16 megapixels while the front one has 5 megapixels. Given the specs, the 2,700 mAh battery might be more than enough.
Aside from being Archos first entry into the enterprise market, it is also its most expensive. The French company has filled the mobile market with a variety of devices ranging from low to, more recently, somewhat high end choices, most of them bearing budget friendly prices. The GraniePhone? A solid $849. That is much more than the high end premium flagships we have today. Then again, the GranitePhone is intended more for enterprises than individual consumers, though the price tag isn't going to do it much favors.