Archos GamePad available in February for $169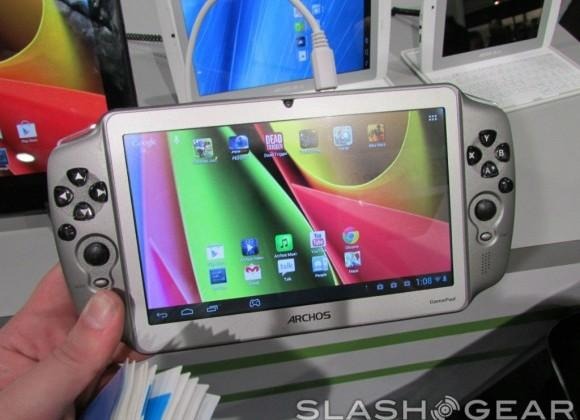 Archos showcased their new GamePad gaming tablet at CES last week, and we even got our hands on the new device, but the company just announced yesterday the availability and pricing for the new tablet. Starting sometime in February, on-the-go gamers will be able to snatch up one of these for just $169.
What sets this tablet apart from other Android tablets is its 14 physical buttons on the sides, as well as dual-analog thumbsticks, and an exclusive button-mapping tool that allows users to enjoy games without relying on on-screen controls. That said, the GamePad still comes with a 7-inch capacitive touchscreen with a resolution of 1024 x 600 and support for 16 million colors.
Under the hood there's a 1.6GHz dual-core processor working with a quad-core Mali-400 MP4 graphics chip that supports 3D games. The tablet also has 1GB of RAM and 8GB of internal storage capacity. If you need that bumped up specifically, the device comes with a built-in microSD card slot that can be used to add up to 32GB of extra storage space.
You also have a USB 2.0 port and a miniHDMI port for hooking up to an external monitor or HDTV. It comes with a front-facing camera, a built-in speaker, microphone and G-sensor, and has Android 4.1 Jelly Bean running inside. The Archos's GamePad measures just 10mm thick and weighs 0.7 pounds — light and thin enough to throw in your backpack to take with you without causing any hassle.
[via Android Community]