Archos G9 Android 3.1 Tablets Get Dual-Core Fast, 250GB Storage, 3G Ready, And Low Price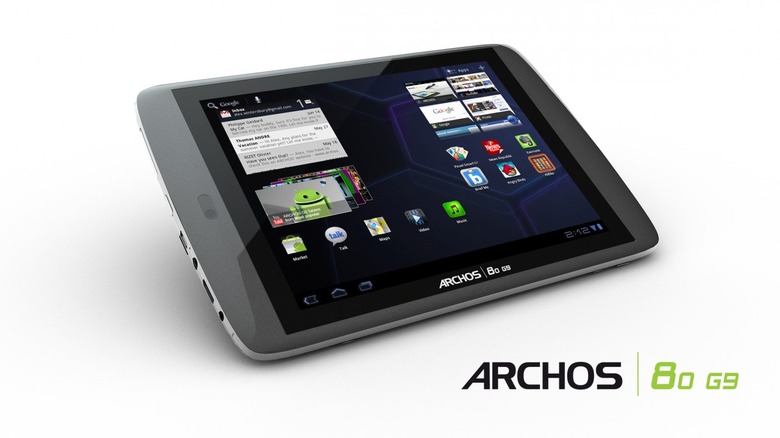 Archos is known for offering affordable alternatives, but today they've really outdone themselves and most of the competition. They've just unveiled two new Android 3.1 Honeycomb tablets—the Archos 80 G9 and the Archos 101 G9—that rock some pretty nice specs and possibly the largest on board storage, but slot in at the sub-$350 price range.
The Archos 80 G9 features is the 8-inch version with a 4:3 ratio and 1024 x 768 resolution. The Archos 101 G9 is the 10-inch version with a 16:10 ratio and 1280 x 800 resolution. Inside, the G9 series is powered by Texas Instrument's 1.5GHz dual-core OMAP 4 processor that Archos touts as 50% faster than NVIDIA's Tegra 2 processors. There's also HDMI output and support for 1080p playback.
But perhaps most impressive is the use of Seagate's HDD with a 250GB capacity that's the largest used on any tablet currently in the market. Archos says its 8 times more storage at the same cost of a standard 32GB tablet and with all that space you can store over 50 hours of full 1080p HD content.
Both tablets are 3G-ready, meaning that there's only one version instead of both a Wi-Fi-only and a 3G/Wi-Fi version. The one version supports Wi-Fi and can also support 3G with the addition of a USB dongle. The Archos G9 3G Stick is designed to fit into the back of all G9 tablets to get 3G connectivity. It costs $49 for the 3G Stick.
The Archos 80 G9 is priced at only $279 while the Archos 101 G9 is priced at $349. Competing tablets with similar specs are generally priced starting at $499. This is quite an amazing deal and its scheduled to arrive by the end of September.