Archos 80 xenon 8-inch tablet offers 3G and Play Store access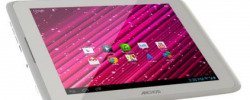 Archos has announced a new tablet – the Archos 80 xenon – this one boasting a combination of features and price tag that give consumers a reason to take notice. The slate is priced at £159.99/$199.99, and offers both 3G connectivity and an unlocked SIM, as well as other features you'd expect to find in an 8-inch tablet. The device is Google certified, so unlike some of the company's other tablets, this one offers access to the Google Play Store.
Under the hood, the Archos 80 xenon offers a quad-core Qualcomm 1.2GHz processor and 1GB of RAM, and while the announcement fails to mention how much on-board storage space there is, there's a microSD expansion slot that supports up to 64GB cards. Around back, there's a 2-megapixel camera, which is more or less average for tablets in this range.
The 8-inch IPS display has a resolution of 1024 x 768 and supports multi-touch. The slate runs Android Jelly Bean 4.1, and as mentioned above has an unlocked SIM, allowing users to pop in whatever they'd like to use, whether it's a prepaid SIM or one as part of a contract plan. There's integrated GPS, allowing the slate to be used as a navigational tool in conjunction with Navigation or another GPS app.
Hardware aside, there are a variety of apps, such as the Archos Media Center Applications suite, which is composed of various media offerings for video and audio, as well as media sharing. That is in addition to the pre-installed Google apps, such as Gmail, Google Talk, and Google+, due to the tablet being Google-certified.
Said Loïc Poirier, CEO of Archos: "We designed the ARCHOS 80 xenon to meet the growing need and desire for large screen connectivity while on the go. Taking advantage of the recent arrival of affordable 3G subscriptions, the ARCHOS 80 xenon provides a full connected tablet experience anywhere, anytime." The device is slated to his shelves in the US and UK this June.
SOURCE: Android Community