Archos 5 Internet Tablet gets firmware update; Mini Dock demo [Video]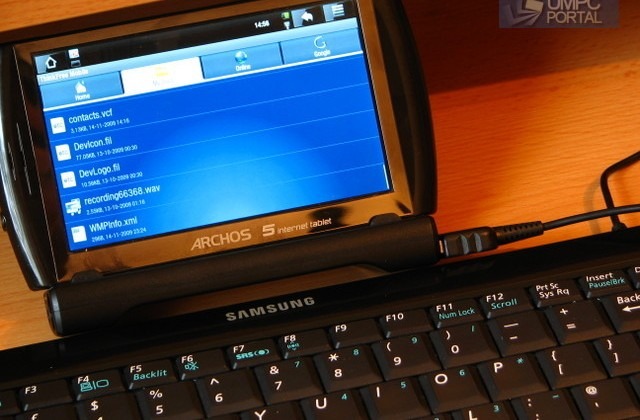 It's been a rainstorm of Archos 5 Internet Tablet newness over at UMPC Portal today, with our friend Steve Paine taking delivery not only of the Archos 5 Mini Dock but the latest firmware which has also released today, v1.3.07.  Together they've taken the Android-based Archos 5 even closer into MID status: USB host support means that you can plug a full-sized keyboard and mouse into the Mini Dock's USB port, while the new firmware now supports full-screen YouTube HD playback together with outputting that content, via HDMI, onto your TV.
Video demo after the cut
As well as full-sized peripherals, the USB host functionality will work with external storage such as USB thumb-drives and full-sized hard-drives.  The latter, Steve has found, might not get enough power from the Archos 5 Mini Dock, however.  We're seeing more gadgets like smartphones and PMPs supporting USB host, and it certainly adds another degree of flexibility being able to whip out a mobile gadget to check or send out a file, rather than boot up your notebook or netbook.
Steve has put together a full demo video below, including highlights of the new firmware; full details of that here.  He's calling it a "mini web PC" setup, and with a folding or compact keyboard we can certainly see it replacing what many users would generally turn to a notebook to achieve.