Archos has unveiled a fresh batch of smartphones, both colorful and with designs similar to what we've seen with the maker's other recent handsets. The Archos 50b Platinum and the 45c Platinum are both aimed at budget buyers, offering a solid mix of low pricing and decent specs.
The 45c Platinum is the lesser of the two models, but mostly only in terms of screen size; it offers a 5.2-inch display with a resolution of 854 x 480 pixels, while the 50b Platinum offers a 5.7-inch display with a resolution of 960 x 540 pixels.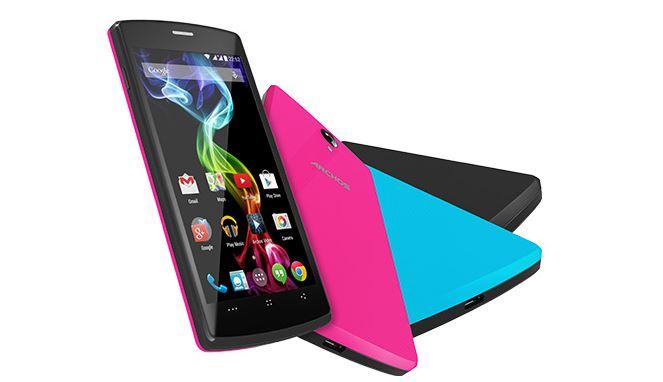 As mentioned, both handsets run Android 4.4 KitKat, and both feature a MediaTek MT6582 quad-core 1.3GHz processor alongside 4GB of storage and 512MB of RAM. Those last two are harsh numbers for some consumers to bear with, but the inclusion of a microSD card slot supporting up to 64GB eases it a bit.
The 45c Platinum features a 5-megapixel rear camera with auto focus and flash, while the larger 50b Platinum features an 8-megapixel rear camera with the same AF/flash. Both can record in up to 1080p HD, and both are joined by a 2-megapixel front-facing camera.
The handsets are being offered with three different back color plates, which are interchangeable. Joining the color backs is a clear protective case, and Archos is tossing an 8GB microSD card into the mix. The 45c Platinum is priced at $99 USD, and the 50b Platinum is priced at $119 USD.
SOURCE: Archos