Remember the iCade? What originally started out as an April Fool's joke on ThinkGeek morphed into a legitimate product a little over a year later. Take that same concept, shrink it down, and what do you get? The Arcadie for iPhone. Featuring a joystick and two physical buttons, the arcade cabinet houses an iPhone or iPod Touch in the back and lets you play some variations of classic arcade games. We decided to take one for a spin, so head past the jump for the full review.
Hardware
The Arcadie doesn't look quite as swanky as the iCade, constructed from plastic with stickers adorning the sides, but it stands up to the task of holding your iTouch device in place while you play the games. A button on the top will pop the back open, allow you to place your device into the 30-pin dock connector found at the bottom of the slot.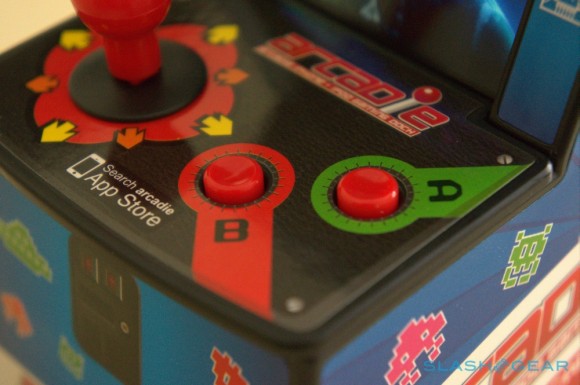 Some rubber bumpers, meanwhile, rest on the bottom portion of the device's screen so it doesn't get scratched while inside the cabinet. There's two additional "springy" bumpers that retract when you place a thicker device in the cabinet, like the iPhone 3GS, all to make sure that everything fits nice and snugly inside.
Otherwise all the action happens up front: there's a joystick which supports eight directions along with an A and B button just waiting to be mashed. After the games fire up, there's a brief calibration period that prompts you not to touch the buttons. When we did eventually jump into gameplay, we found that the joystick works without any issues, and that the two buttons worked well for the most part with good feedback. Occasionally some of our presses weren't registered, but it was a rare occurrence.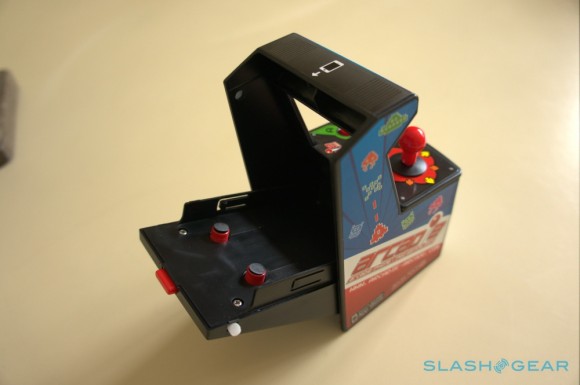 Software
Right now there are three games available for free on the App Store that work with the Arcadie: Ping, Blasteroids, and Alien Invaders. See what they did there? You can probably guess which games they're emulating, with a few graphical improvements to bring the classics into the 21st Century. If you've played the originals, you've played these too. Three more are said to be coming in the future too, including Planet Defender, Stacker, and Invaders!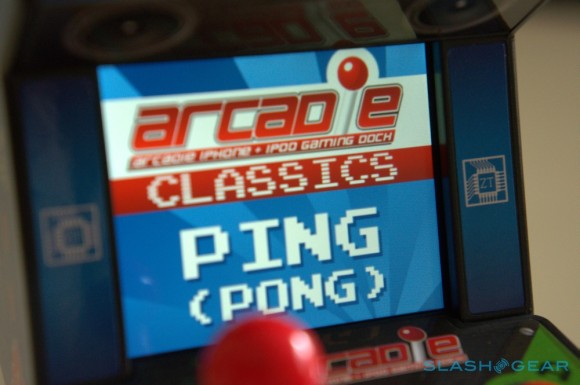 The games have been designed to use only the top half of your iDevice's screen thanks to the design of the cabinet, but there isn't any touch support at all. They'll only work with the Arcadie, so if you're hoping to get some retro gaming done on the go, you can forget about it. It's not a big deal, and we're sure you can find other versions that are designed for touch capabilities with relative ease. The Arcadie supports the iPhone 3GS, iPhone 4/4S, and iPod Touch 3rd Generation.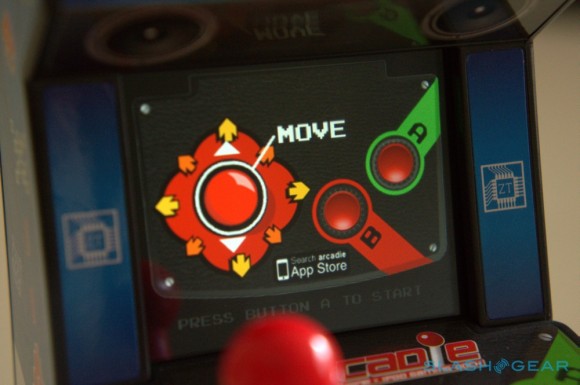 Wrap-Up
What more is there to say about the Arcadie? It's a fun little product that's also simple to use. Firebox is currently selling the Arcadie for £14.99 (~$23.39), so it would make a very inexpensive gift or indulgence. The gaming selection is pretty limited right now though, so how much value you get out of it depends on how many more games become available in the future and if developers show any interest. Still, it's cheap, and a nice way to kill some time or avoid doing work. Now, if you'll excuse us…