araHub aims to be go-to Mac USB hub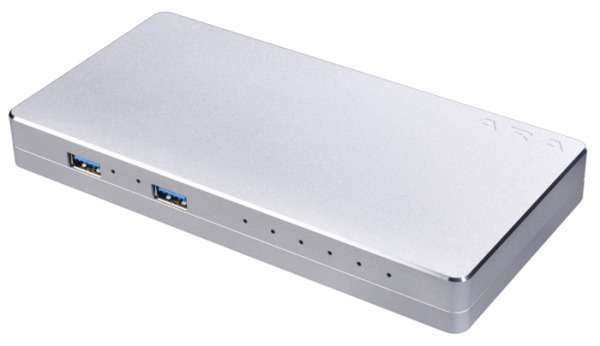 A new USB hub by the name araHub has been introduced to the public. This USB hub wishes to be "the worlds best, most beautiful USB 3 hub," aiming to do so with a look that replicates that of the Apple suite of notebooks and desktop computers.
This USB hub is "engineered to last," say its creators at Ara Innovation (not to be mistaken for Project Ara, a Google project). You'll find this machine created with a single board inside two solid pieces of aluminum.
The device is heavy. According to its creators, araHub is "heavier than you expect," and that this is "great because that mass helps keep it on the desk." You'll find 2 front-facing down-stream USB ports, 5 back-facing down-stream ports, and a single power port.

The araHub is 170 x 85 x 20mm and weighs in at 500g. Operating temperature for araHub is between 0-40 degrees C, ready for your desktop.
In the box you'll find an external wall-mount power supply, one USB 3 cable, a quick start guide, and the hub itself. This is a KickStarter project which pushed its first 33 units for $99 USD – next step is $119 USD. They've got 10 days to go and slightly less than $8,000 of their $25,000 goal – have at it!
VIA: Ara Innovation