Aqua Sounders make perfect summer iPod accessory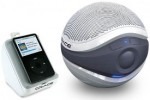 Now this is different. If you've ever wanted the perfect music-listening solution for your iPod while in the pool, this is the answer to your prayers. It's called the Aqua Sounders from Grace Digital Audio and this speaker can float in water.
The speaker itself is waterproof and can easily be used in the pool or in a hot tub, if you'd like. All you need to do is place the iPod in the dock in a dry place and then do what you wish with the speaker.
The transmitter works with up to ten speakers at once and is pretty compatible with most audio sources. It has a 150-feet transmission range and can be powered by batteries. There are LED mood lights on the speaker as well, making for a cool effect in the water. You can get the Aqua Sounders now for $149.99.
[via Coolest Gadgets]