AQUA lightweight headphone amp ditches the battery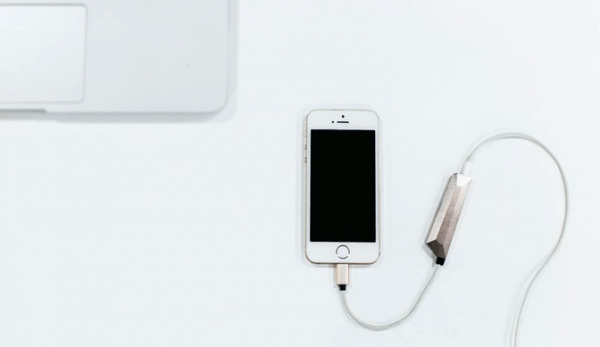 If your smartphone can't put out enough volume for your needs or has subpar audio quality, the solution is a headphone amplifier. The weight and bulk of such amplifiers are a problem for many users, though, as it detracts from the portability of a smartphone and earbuds setup. Enter the AQUA headphone amp, a lightweight amp that looks like a large inline control. It is designed to work with headphones and smartphones, and works to improve and amplify the output audio quality.
AQUA's maker describes the device as a "micro headphone amp". It is small and lightweight because, unlike competing products, it ditches the integrated battery, instead plugging into the bottom of one's smartphone (or, we suppose, tablet) via a micro USB cable. The headphones plug into the other end of the amp.
AQUA supports 24bit/192kHz audio, and is made using CNC machined aluminum. The entire amplifier weighs only 16 grams, according to the maker, which makes it about as close to invisible as you could get, at least as far as headphone amps go. There's an LED status light on the amp, a play/pause button, and 3.5mm audio out port. There's a version for Apple devices, as well.
Nexum is seeking $16,000 USD on Kickstarter, where it has exceeded its goal by a small amount with 54 days remaining. The early bird unit is priced at $49 USD and is estimated to start shipping to backers this upcoming November. The planned retail price will be $79 USD.
SOURCE: Kickstarter