Aptina announces 14MP MT9F001 camera sensor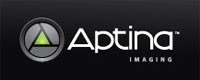 Apatina makes all sorts of image sensors for devices including cameras and camera phones. About a year ago we talked a bit about a new Aptina image sensor that supported HD video recording called the MT90912. Aptina has unveiled a new high-resolution imaging sensor called the MT9F001 with 14MP resolution.
The new camera sensor is a 1.4-micron unit with a resolution of 14-megapixels aimed at premier cameras according to Aptina. The sensor can record full 1080p video at 60 fps and supports electronic image stabilization.
Despite the high resolution and other features of the camera sensor, it is a very small footprint device that will allow the sensor to be integrated into cameras that are more compact. "The MT9F001 is a unique image sensor combining a smaller pixel and increased performance," says Sandor Barna, General Manager for Aptina's Camera Business Unit. "This sensor puts into practice Aptina's latest technology, including Aptina™ A-Pix which maximizes the light gathering of each pixel."