Apricorn SATA Wire upgrade kit makes getting a new drive simple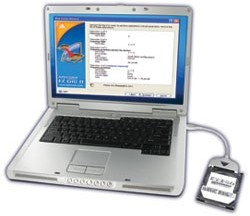 There are probably lots of people out there who would like to add a new HDD or SSD to their notebook computer, but are worried about getting their data and OS onto a new drive. Apricorn has announced a new kit called the SATA Wire Upgrade kit that makes getting data onto your new drive easy.
The kit is priced at $19.99 and includes a cable that has a SATA connector on one end and a USB connector on the other. You plug your new SSD or HDD into the cable and connect it to your computer USB port. The kit ships with software for Mac and PCs that will allow you to move all your data, files and your OS to a new drive.
The software for the PC is Apricorn's EZ Gig II Cloning and Imaging software. The Mac software is ShirtPocket's SuperDuper. Once all of the data is transferred all the user needs to do is swap the two drives out.