Apple's Warren Buffett Paper Wizard game shows it has a sense of humor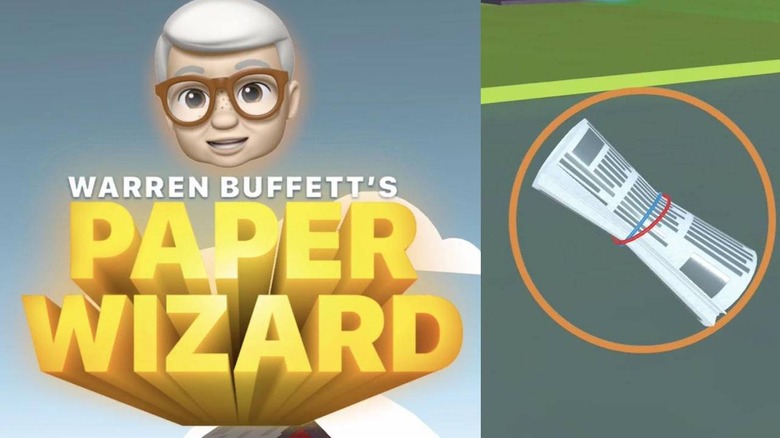 The legendary Warren Buffett reportedly doesn't invest in technology companies and yet, at the annual Berkshire Hathaway meeting, Apple CEO Tim Cook made a surprise appearance and expressed how elated he was that Buffett is an Apple investor. The two's partnership, however, didn't stop there. In addition to a comedy skit between Buffett and Cook, the Apple exec suggested that the philanthropist create his own mobile game. It turns out, Apple was serious and just launched Warren Buffett's Paper Wizard.
Buffett was chronicled to have been a newspaper carrier in his childhood and he was never ashamed of it. In fact, during those same meetings, he would hold newspaper-tossing contests. Now he could hold the same competition again but without much physical effort. All the players need is an iPhone.
Warren Buffett's Paper Wizard is a not-so-subtle clone of Atari's 1985 Paperboy arcade game. Except in 3D and starring Warren Buffet. Players flick the screen to toss papers and earn Warren Bucks based on your performance, all while avoiding birds and vehicles. The mechanics are simple but the game promises to increase in difficulty as the teenage Buffett travels from his hometown of Omaha to Cupertino for a visit at Apple HQ.
Interestingly, the App Store page lists "Wildlife Design, Inc." as the developer of the game. But all the legal text point to Apple as the owner of the game. That makes Paper Wizard Apple's first game in more than a decade after a Texas Hold'em iPhone port. Don't expect Apple to start making its own games though. At least not yet.
While its appearance may be comical, Apple is dead serious about Buffett's investment in the company. In an interview with CNBC, Cook paints the investment as a confirmation that Apple isn't a technology company like, say Google. Apple is now a consumer products company, Cook says, and Buffett just validated that new image.