Apple's Tablet Seems More Real Every Day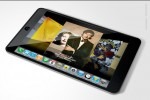 The Apple tablet has been a thing of rumors for a long time now. Whether that's because everyone wants one, just wants to look at it, or because it's Apple-related, doesn't change the fact that at this point in time, the rumors are looking to be more and more like unofficial leaks.
Over at Gizmodo, an Apple insider has seemingly delivered the final blow to the rumor-mill, by shedding quite a bit of light on what's going on, even if it's not necessarily new information. Some of it, of course, is new enough, which makes it all the more worthwhile.
"Hey, it's [redacted]. I may or may not have sat in some Apple meetings for the tablet."
"The device, which I've held mock ups of, is going to have a 10 inch screen, and when I saw it looked just like a giant iPhone, with a black back— although that design could change at any time" they said, "with the same black resin back, and the familiar home button."
"But it will come in two editions, one with a webcam and one for educational use."
It's looking like the Apple Tablet will be a genuine hybrid between an iPhone/iPod and a Macbook, and will apparently cost between $700 — $900. The insider added, "More than twice as much as a netbok."
Boy Genius Report also added that it's looking like the Tablet, in hopes to not look like a giant iPod Touch, will be also utilized as a secondary screen/touchpad for iMacs and Macbooks. This would make sense for functionality and added use, but it may be just a little too futuristic in some ways.
Also, it's being rumored that the Tablet will come with an OLED screen, reaching between 8" — 10". This rumor seems a bit overstretched, as it would make more sense for Apple to have put an OLED screen on the iPhone, but obviously that didn't make it to the final design build of the iPhone 3GS. But, if Apple wanted to make sure the tablet was thoroughly differentiated from the smaller iPhone/iPod Touch, this might just be one more way to do it.
[via Boy Genius Report]