Apple's FaceTime Not Available in the UAE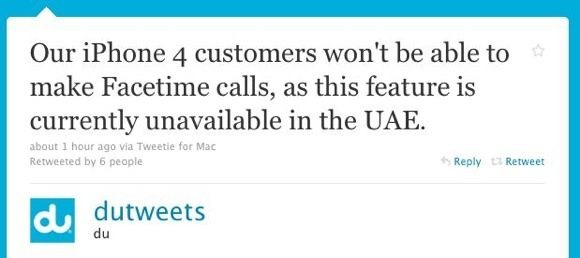 When we first reported about Apple's FaceTime not finding its way to some Middle Eastern locations, there was certainly some speculation about the reasoning. There were some who believed that it was simply an advertising switch on Apple's part, and nothing more. But, it's now been confirmed that FaceTime will not be a supported feature on the iPhone 4 when it launches in the UAE.
A tweet from DU, the carrier that's handling the launch of Apple's new iPhone in the United Arab Emirates, confirms that the video chatting feature will indeed not be supported in the region. The iPhone 4 is set to launch tomorrow in the area. Here's the statement from the carrier:
"Our iPhone 4 customers won't be able to make Facetime calls, as the feature is currently unavailable in the UAE."
The Apple sites representative the areas Qatar, Yemen, and Saudi Arabia still show no signs of any FaceTime support, and now we know why. While DU couldn't go into any further details as to why the WiFi-only feature isn't supported, they did say that as soon as more details are available, they would be sure to share them. It could be something to do with VoIP restrictions, surely, or it could be something completely different.
Worth noting, is that if you have an iPhone 4 that wasn't bought in the region, or from DU in particular (beginning tomorrow), then you can use FaceTime. It seems to be that the feature is being disabled from the hardware/software in the region, based on the selling location, and not the device itself. So, it will be interesting to see how the region enforces this rule, beyond hoping that the majority of customers purchase their new iPhone from region-specific carriers.
[via TUAW]