Apple Xserve No Longer Available Beginning January 31st, Mac Pro Server Introduced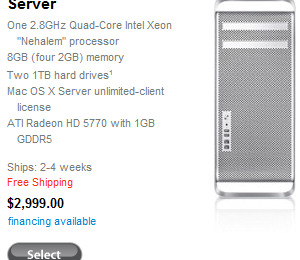 Apple has been busy this Friday morning. Not only has the company officially announced that they are no longer making the Xserve available past January 31st, 2011, but they've also managed to sneak in a brand new Mac Pro Server onto the Apple Store. No surprise that Apple is already ahead of the guessing game as to how they would replace Xserve, even if the replacement isn't getting much of a release announcement (so far).
Apple has pulled the curtain off the Mac Pro Server, which is set to start shipping in "two to four weeks." The workstation is a new addition to the Apple Store, and it features a single 2.8GHz quad-core Intel Xeon "Nehalem" processor, 8GB (4 x 2GB) DDR3 SDRAM, and two 1TB hard drives. You also get ATI's Radeon HD 5770 with 1GB of GDDR5 video memory, and an 18x SuperDrive.
New purchasers will also get Mac OS X Server with unlimited license versions. The base price for the new server begins at $2,999, and will have free shipping, once it ships. Of course, you can start upgrading the Mac Pro Server and see $3,475 price increases, if you felt so inclined.
[via Apple]