Apple Watches appear in fashion stores, ready for April 24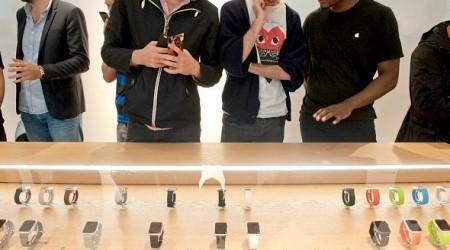 In all the heyday and obsession over the availability and ordering process for the Apple Watch, many interested buyers might have forgotten about one other venue for getting their hands on the smartwatch. A limited number of fashion boutiques across the globe have been revealed to be carrying Apple Watches, exactly as Apple said they would, though not exactly advertised either. What's more, some of them seem to have noted that the watches will be in-store starting April 24, which would somewhat conflict with Apple's own schedule and restrictions.
Apple is trying a new process for buying devices when it unfurled the Apple Watch. While it means you no longer have to wait in line, it did incur an even longer waiting time for shipping to start, with some even reporting June dates. The backlog for Apple Watch pre-orders might have been quite substantial that Apple retail head Angela Ahrendts was reported to have emphasized that no store would sell the device before June.
Now, however, it seems that the mandate might have only applied to Apple's own retail stores. A few high-end fashion shops, which have already been announced to carry the Apple Watch beforehand, are just about ready to go full steam ahead. Presuming Apple doesn't step in, of course. These include Dover Street Market in Tokyo and London, Maxfield in Los Angeles, Colette in Paris, the Corner in Berlin, and 10 Corso Como in Milan. Curiously, only Maxfield is located inside the US.
Apple has been promoting the Apple Watch equally as a fashion accessory as well as a wearable device. Their appearance on the shelves of these boutiques could very well serve as proof of that. Or at least it reinforces the imagery. Other smartwatches in the market have been left to battle it out on the shelves of computer and tech stores instead, although Samsung has, from time to time, added a bit of fashion flair to its own smartwatches too.
Availability in these fashion stores, however, does not exactly answer the question of availability of supplies. Dover Street Market, for example, only has 350 units stocked at Ginza, Japan and 570 in London, which chief executive Adrian Joffe believes will quickly sell out. But at least those who will have the luck of being able to buy one of these will be able to get to use them immediately. Those who have pre-ordered are still waiting in line, though Apple is promising it is moving as fast as it could. But probably not in time for Friday.
SOURCE: Apple Watch