When it comes to smartwatches, there's the Apple Watch and then there's everything else. Five generations of wearable have seen Cupertino's timepiece lose most of its rough edges; now, the Apple Watch Series 5 is taking one of the last big usability issues to task. With an always-on display, the new Apple Watch aims to keep out-shining the competition.
Apple Watch Series 5 Design and Durability
It's tough to tell the difference between the Apple Watch Series 5 and the previous generation Series 4 from the outside, at least depending on which finish you pick. Like before, there are 40mm and 44mm versions, to suit different wrist sizes. Aluminum can be had in silver, gold, and space gray, while stainless steel comes in gold, silver, and space black.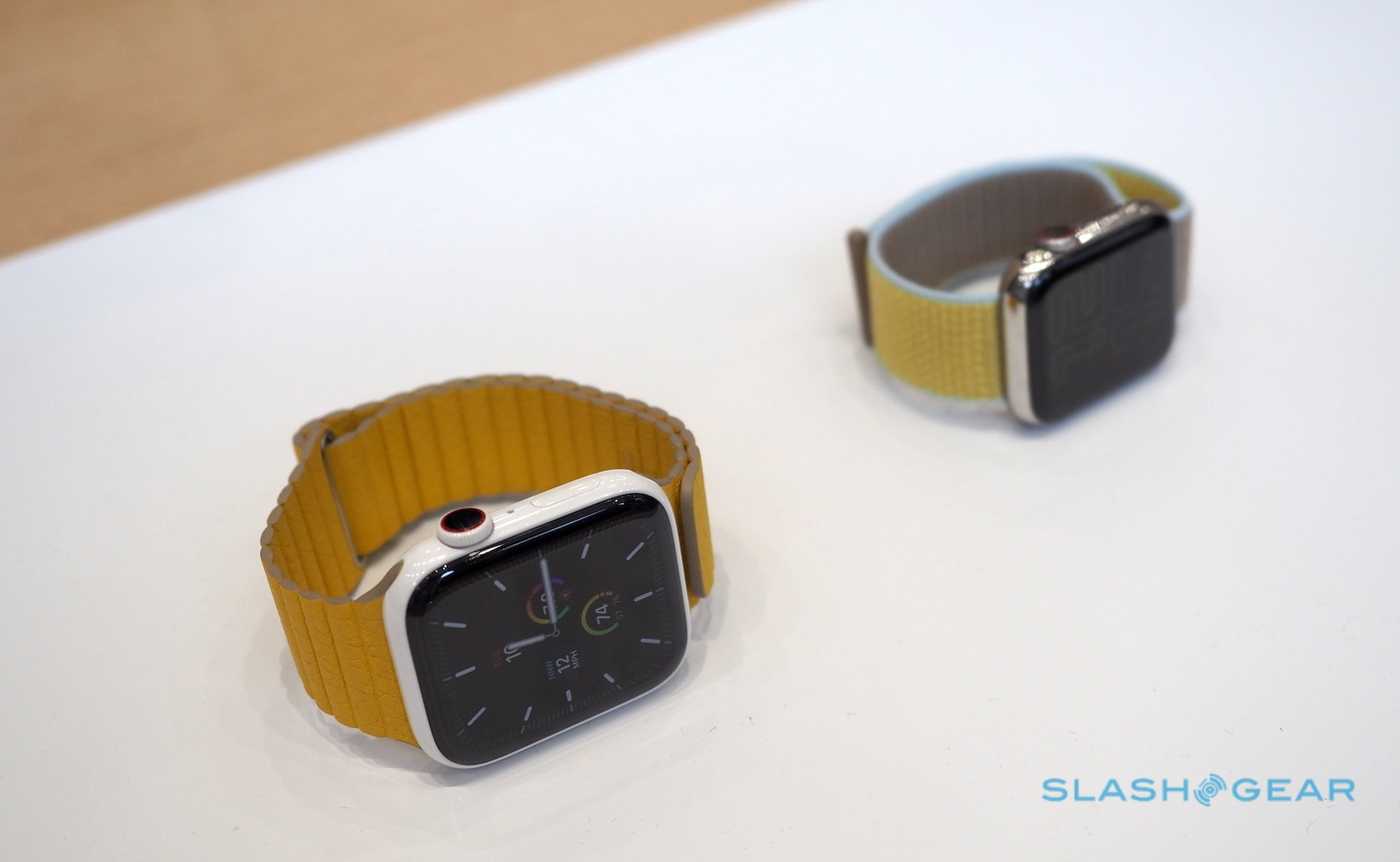 New with the Series 5 are Titanium and Ceramic cases. The former is available in natural brushed or space black, but it's really the weight change which is most dramatic: it honestly feels like you're wearing a replica mock-up on your wrist, it's so light. White ceramic will be arriving this fall, and skews to the other end of the scale: dense and gleaming, it's like a piece of furniture from 2001: A Space Odyssey.
You pay handsomely for the titanium and ceramic models. An aluminum Apple Watch Series 5 starts at $399 for 40mm or $429 for 44mm, with cellular $100 on top; the stainless steel is $699 for the 40mm and $749 for the 44mm, though cellular is standard. If you want the titanium Series 5, however, that'll be $799 for the 40mm and $849 for the 44mm, with cellular standard, while the ceramic is a hefty $1,299 for 40mm and $1,349 for 44mm, with cellular standard.
Altogether that's eighteen different materials and finishes across the different sizes. While that may seem like a lot, there's a solid argument that a smartwatch is just as much about jewelry as it is functionality. Apple is embracing that this time around with the Apple Watch Studio.
Until now, the Apple Watch has been packaged with a default strap. That made logistics easier from Apple's side, but it did mean that – if you had your heart set on a different band – you'd have to buy that separately. Now, Apple allows you to mix and match: the aluminum and stainless steel models come with a choice of a Sport Band or a Sport Loop, while the titanium and ceramic come with a choice of Sport Loop.
As for durability, I inadvertently put that to the test when I dropped the Apple Watch when trying – pre-coffee – to fasten the strap. Despite the most affordable model using Gorilla glass rather than sapphire glass like the stainless steel models and up, and the watch falling face-down on a wooden floor from chest height, it survived without a scratch. Unsurprisingly, when I actually got it on my wrist, I had an elevated heart rate.
Apple Watch Series 5 Display
The biggest change with the Apple Watch Series 5 is a pretty fundamental one. In its first four generations, the display would automatically shut off to save power when you didn't have your wrist raised. If you wanted to check the time, or read a notification, you had to lift your arm to wake the watch up first.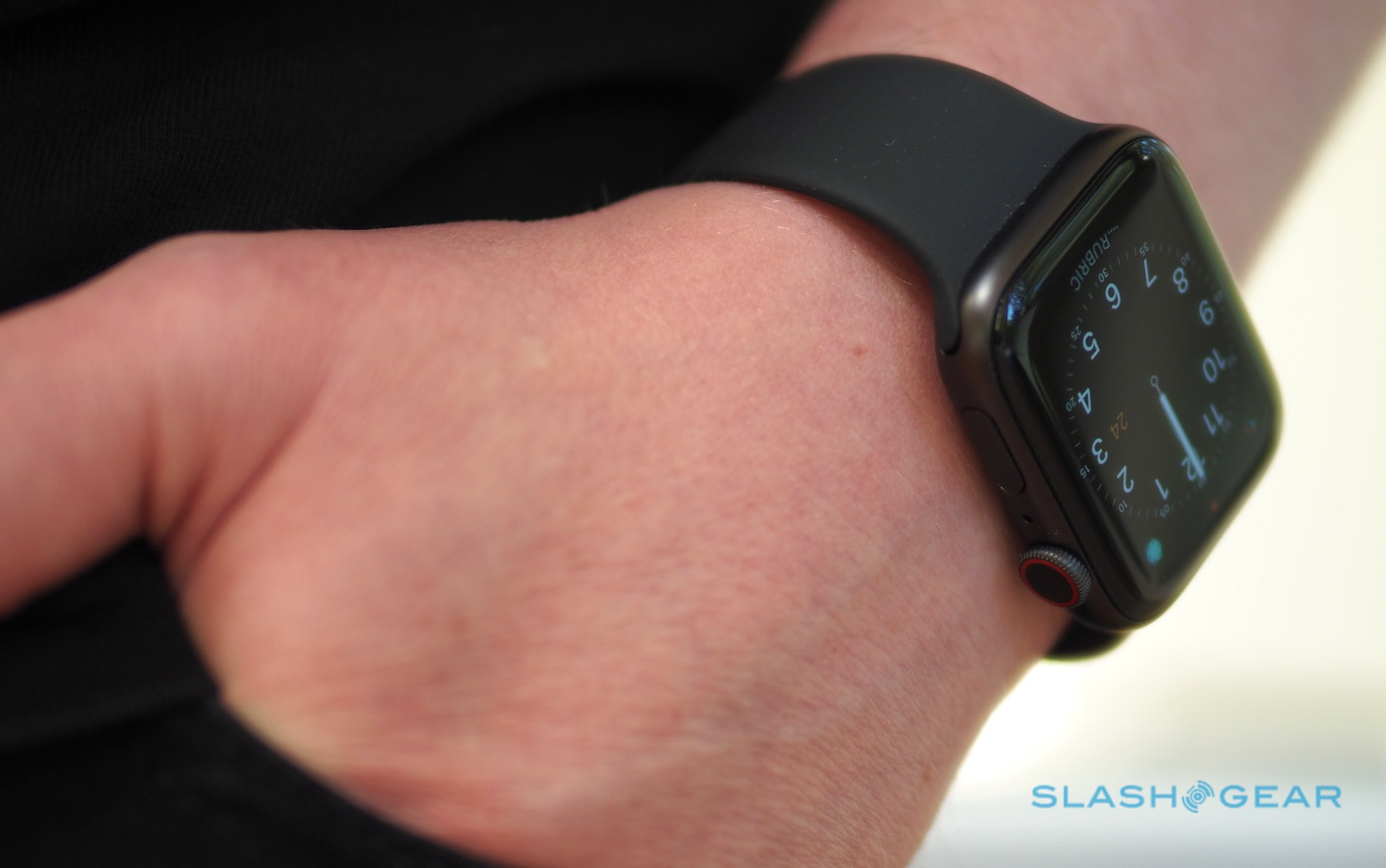 Most of the time that was fine. Most of the time. Sometimes, the watch would decide that your arm movement wasn't sufficiently determined in order to qualify as a wake-motion, and you'd find yourself pantomiming "oh, I must check the time" with an exaggerated gesture to convince it. Sly glances, when you're trying to check the time or read an alert when you're meant to be focused on a meeting or dinner, could be tricky. Even just casual checks when your hands are on the steering wheel could end up being ignored.
Series 5 brings with it a new, low-power display that – with some rethinking of the watch faces and the screen's refresh rate – allows it to be permanently on without chewing through your battery in short order. In normal use it looks just as it did before, or even easier on the eyes, in fact; a new ambient light sensor allows the brightness to adjust to the room, meaning less dazzle.
When you're not actively using it, however, the Apple Watch Series 5 flips into a dimmer, lower-power mode. Apple redesigned all the watch faces to pare them back into higher-contrast versions that stand out better when the screen is dim. It also drops the refresh rate from 60 times a second to once a second. If you're mid-workout, the refresh rate switches from per-millisecond to per-second.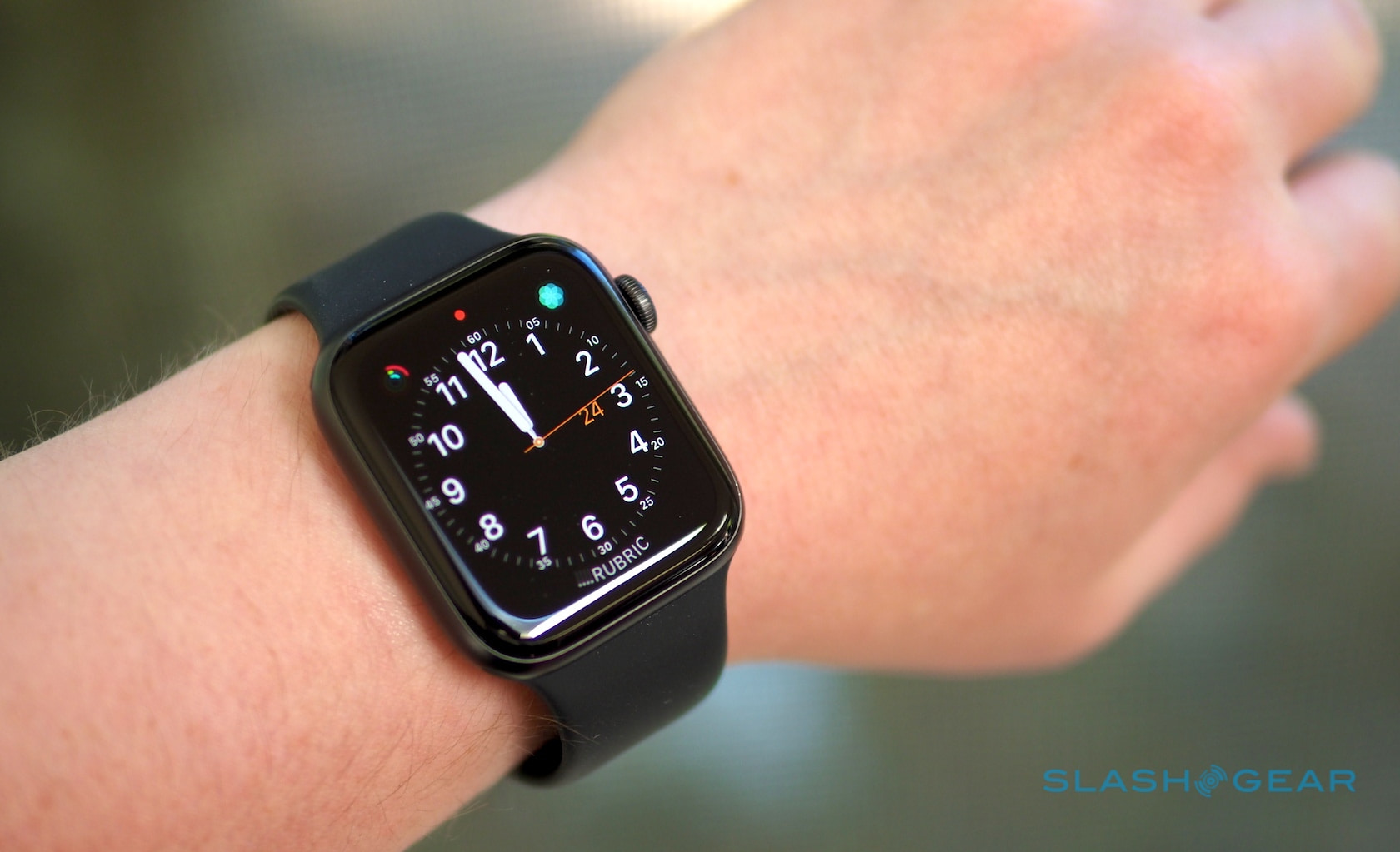 Lift your wrist, and the screen morphs into its regular version. If all you want is to check the time, however, you can just glance at the watch now.
It takes a little getting used to. First off, there's the muscle memory I've built up over several generations of Apple Watch to overcome. On some watch faces, Apple also grays-out anything more personal than the time and date: your fitness rings, for example, along with what audio you're listening to. It's not universally the case, though: the Infograph Modular face, for instance, still shows your next appointment even in low-power mode.
Then there's the fact that notifications won't actually display in the low-power mode: you need to wake the watch up fully to see them. That led to a couple of head-scratch moments when I felt the watch vibrate but nothing new was showing on the screen when I looked down.
You can, if you so prefer, turn off the always-on display. Doing so will stretch out a few more hours battery life from the Series 5, too. However as I found out, power wasn't really a problem.
Apple Watch Series 5 Battery
Apple quotes the same 18 hours of use from the Apple Watch Series 5 as its predecessor achieved. While it means a trip to its magnetic charger every night is pretty much a given, it does suggest the always-on screen isn't as demanding as you might expect.
In practice, I've had no problems getting through full days on a single charge. Obviously how you use it will affect that. I find talking into my wrist like I'm Dick Tracy to be embarrassing, so I don't use the Apple Watch for voice calls, and I'm invariably within range of my iPhone or WiFi so I didn't require its standalone cellular connectivity. GPS, which is primarily used when you're in a workout, will also take its toll.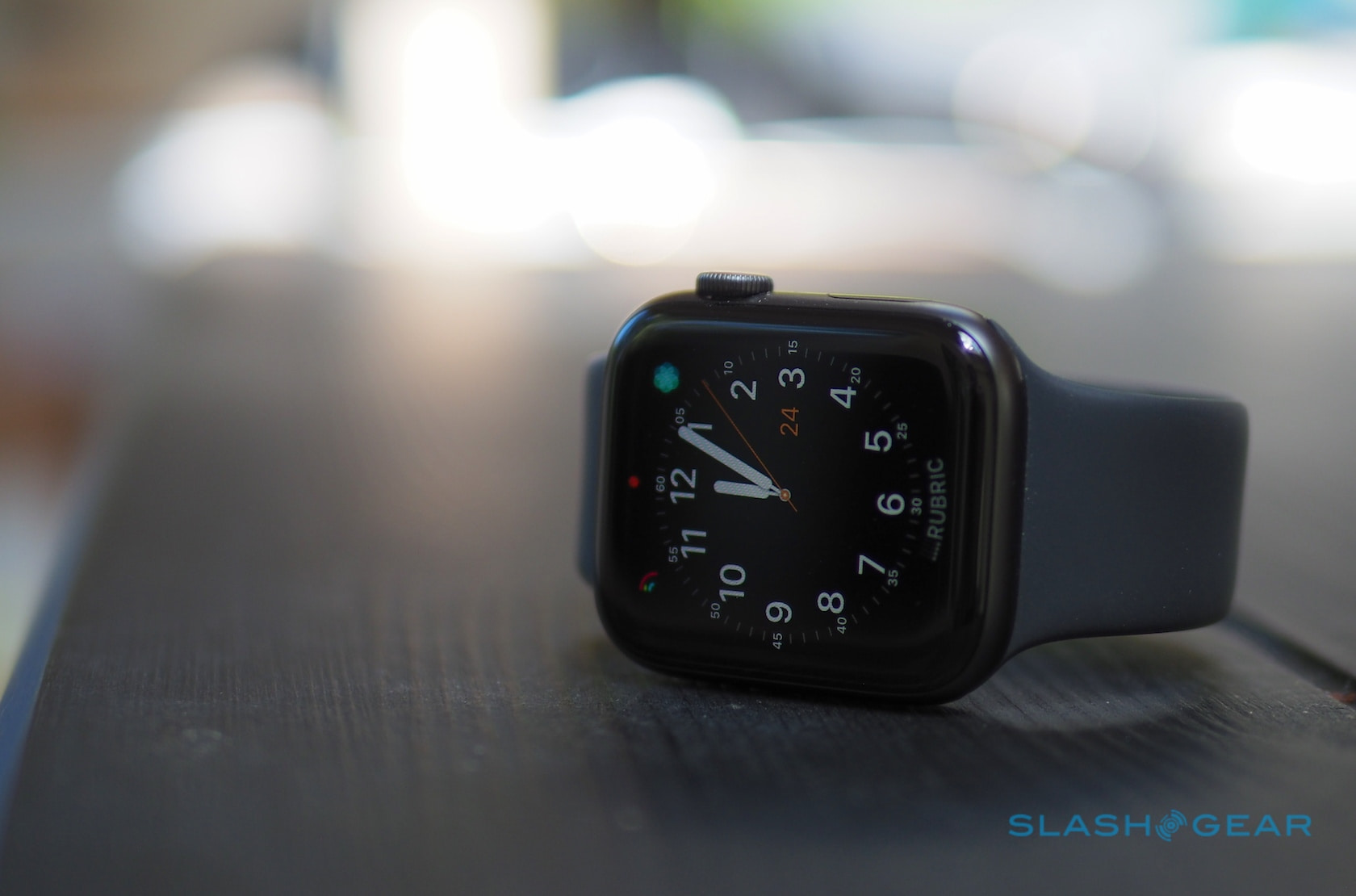 On one day, with the Apple Watch off its charger at 4am, I finished up at 10:30pm with 20-percent remaining. Another day, after 15.5 hours – including roughly an hour-long workout with GPS tracking enabled – I still had a third of the battery left.
Apple Watch Series 5 and iPhone
watchOS 6.0 brings the Apple Watch another step closer to independence from an iPhone, but if you've been waiting for the day when you could carry an Android phone in your pocket and an Apple Watch on your wrist, we're not quite there yet.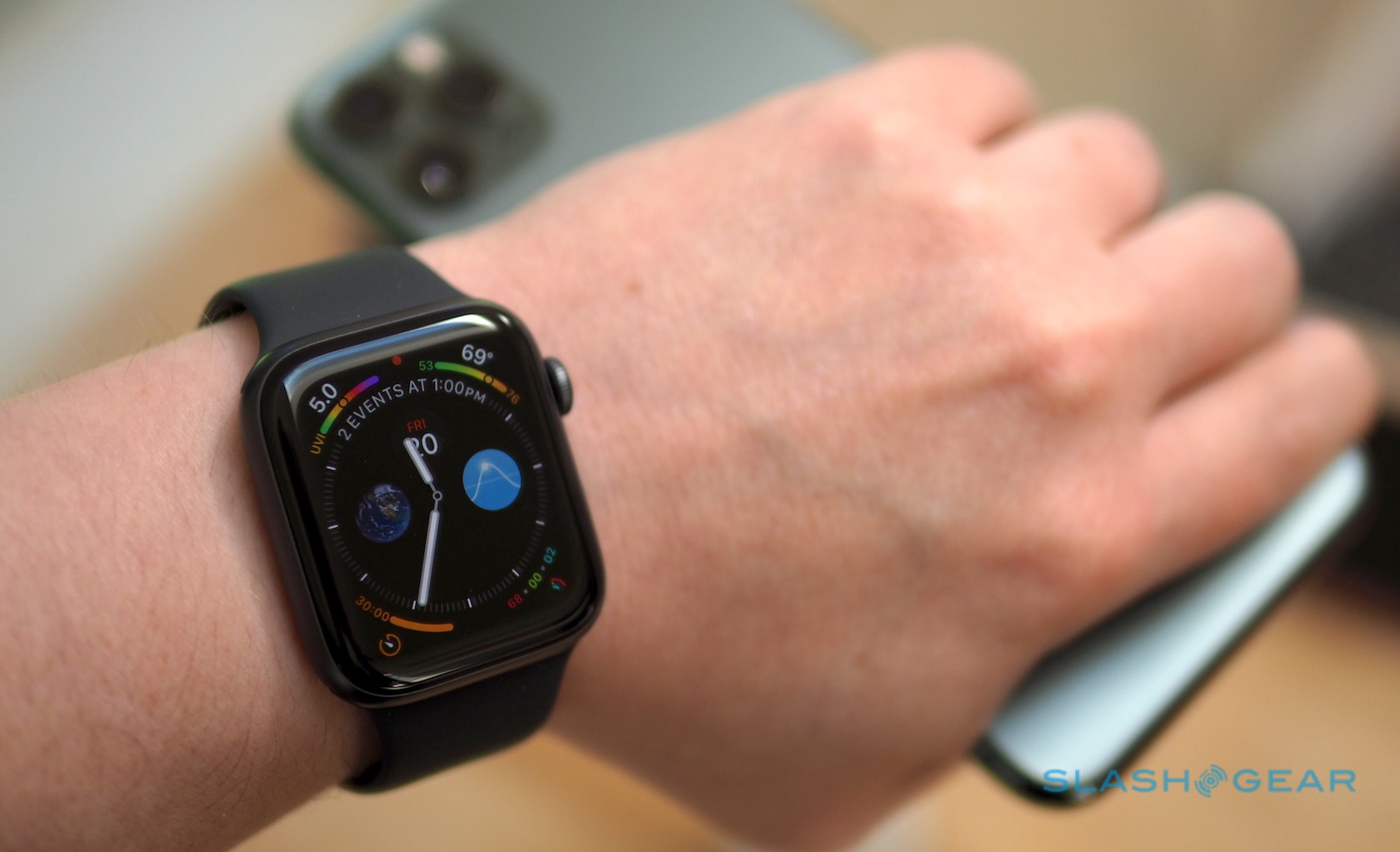 Instead, there's finally support for browsing the App Store and installing apps directly from the Apple Watch itself, rather than the old route of doing everything through the iPhone's Watch app. It's a surprisingly comprehensive experience, too. Despite the relatively small size of the screen, you still get descriptions, ratings, reviews, screenshots, and more.
There's now 32GB of storage in the Apple Watch, of which around 27GB is available for apps. As with installing an app on the iPhone, you need to sign in with your Apple ID password: you can either do that by tracing out each character with your fingertip, or by entering it on your iPhone instead. Suddenly I found myself wishing the Apple Watch had Face ID.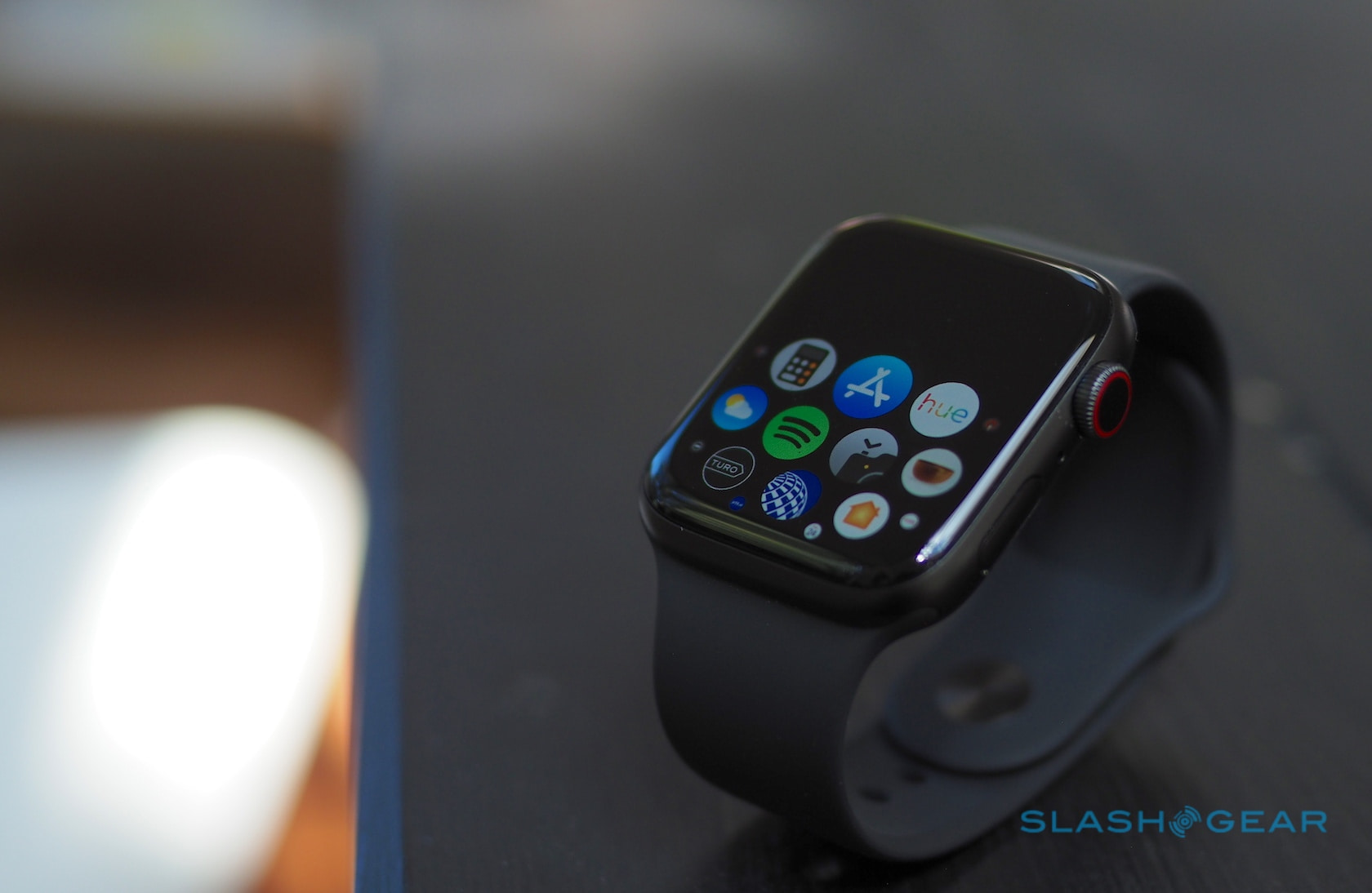 Apple Watch Series 5 – Compass, Emergency Calling, and Everything Else
While the always-on display may be the headline feature, the Apple Watch Series 5 does have some other tidbits worth noting. The digital compass is a new addition, something I'm told developers have been keen to see included for a while now. Given every Apple Watch Series 5 has GPS – whether or not you get the cellular model – the smartwatch now not only knows where you are, but which direction you're facing.
It's a boon for navigation, since Apple Maps can now figure out which way you're facing. Third-party apps, like Yelp and Night Sky, tap into the compass too, and you can access a standalone Compass app or have a direction complication on your favorite watch face. The only thing worth noting is that – as with any compass – magnets being nearby can throw it off.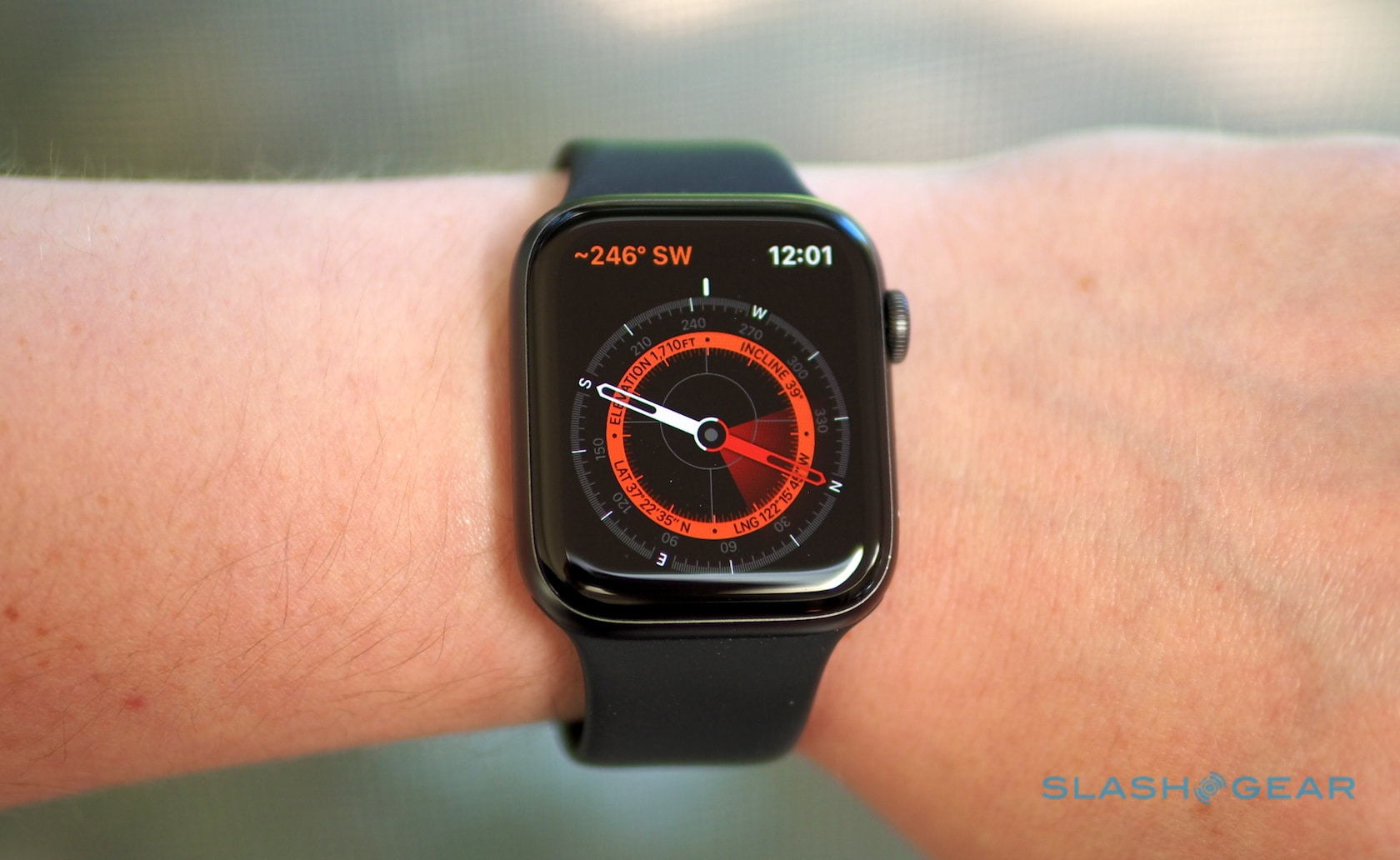 Apple redesigned most of its magnet-based straps so that they won't interfere, the exception being the Milanese Loop. Wear that, and – as a warning on the watch itself cautions – you can expect a misbehaving compass.
There's now menstrual cycle tracking, part of watchOS 6.0, with which you can keep a log of symptoms – both physical and emotional – and other information. It'll take that data and help predict when you might be most fertile, or when your next period is due. Another health-related feature focuses on hearing, warning if ambient sound is high enough to potentially cause problems with your ears.
If you've got the cellular model, the Apple Watch Series 5 can automatically contact the emergency services if it spots you've taken a hard fall and are motionless. That doesn't require cellular service to have been activated, either, and it'll work internationally. You can also manually trigger an emergency call, and the watch can share your location too.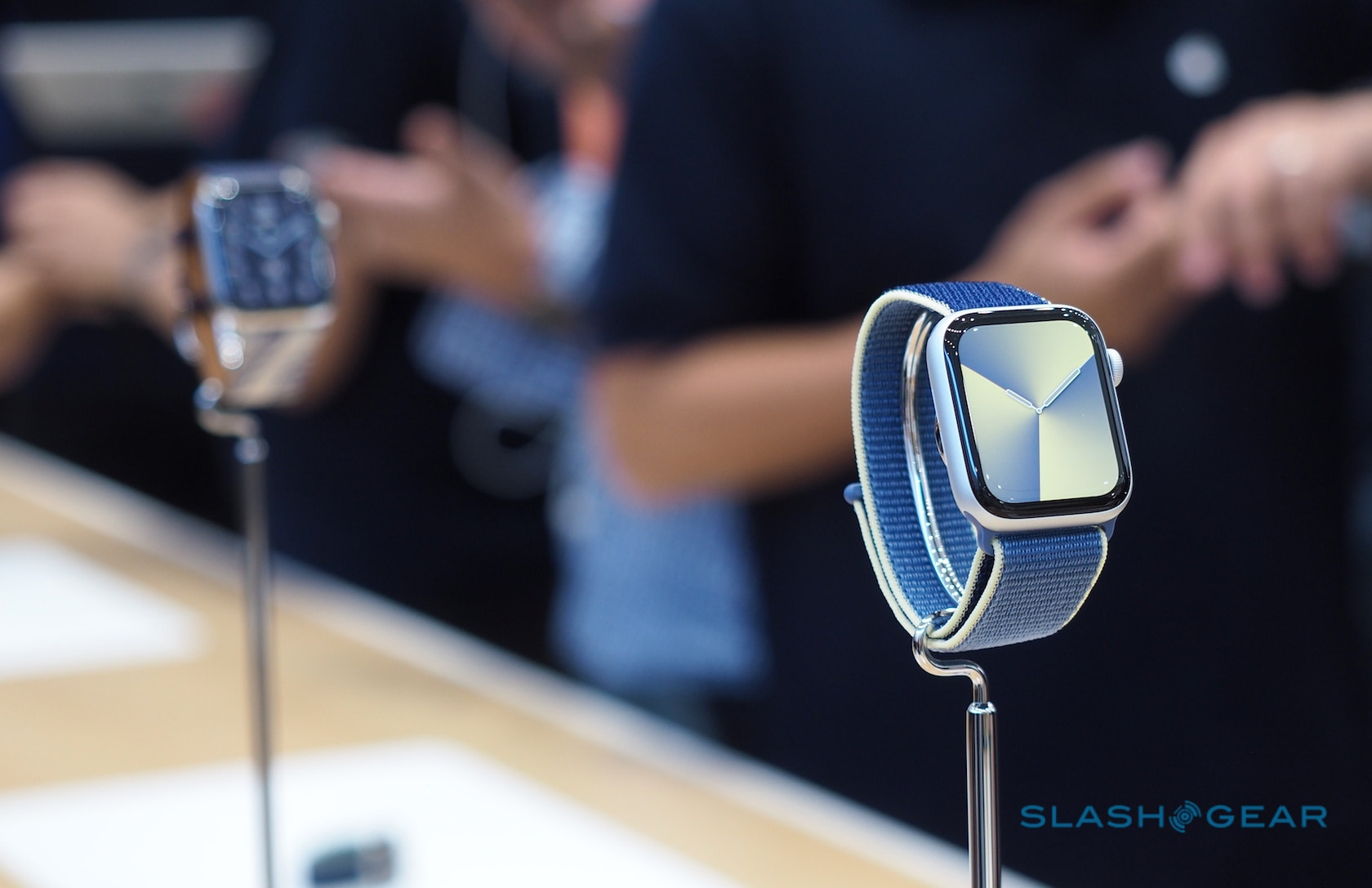 Otherwise, the features we're familiar with from the Apple Watch Series 4 have been carried across. That means heart rate tracking, Siri, the clever ECG monitor, standalone music playback with paired Bluetooth headphones like AirPods, and Apple HomeKit control.
It also means you still don't get sleep tracking, despite rumors to the contrary. I struggle to sleep wearing something on my wrist, so that's no great omission to me, but I can see people wanting to fill in another gap in their personal health tracking wishing that a single device could do it all.
Apple Watch Series 5 Verdict
If you already have an Series 4 on your wrist, you'd have to really, really want the always-on display in order for an upgrade to the Apple Watch Series 5 to be worthwhile. As usual, Apple has released the latest version of watchOS for its existing owners – all but those with the very first-generation Apple Watch, anyway – and that brings many of the new features to current users. The Series 5 is a refinement, not a revolution.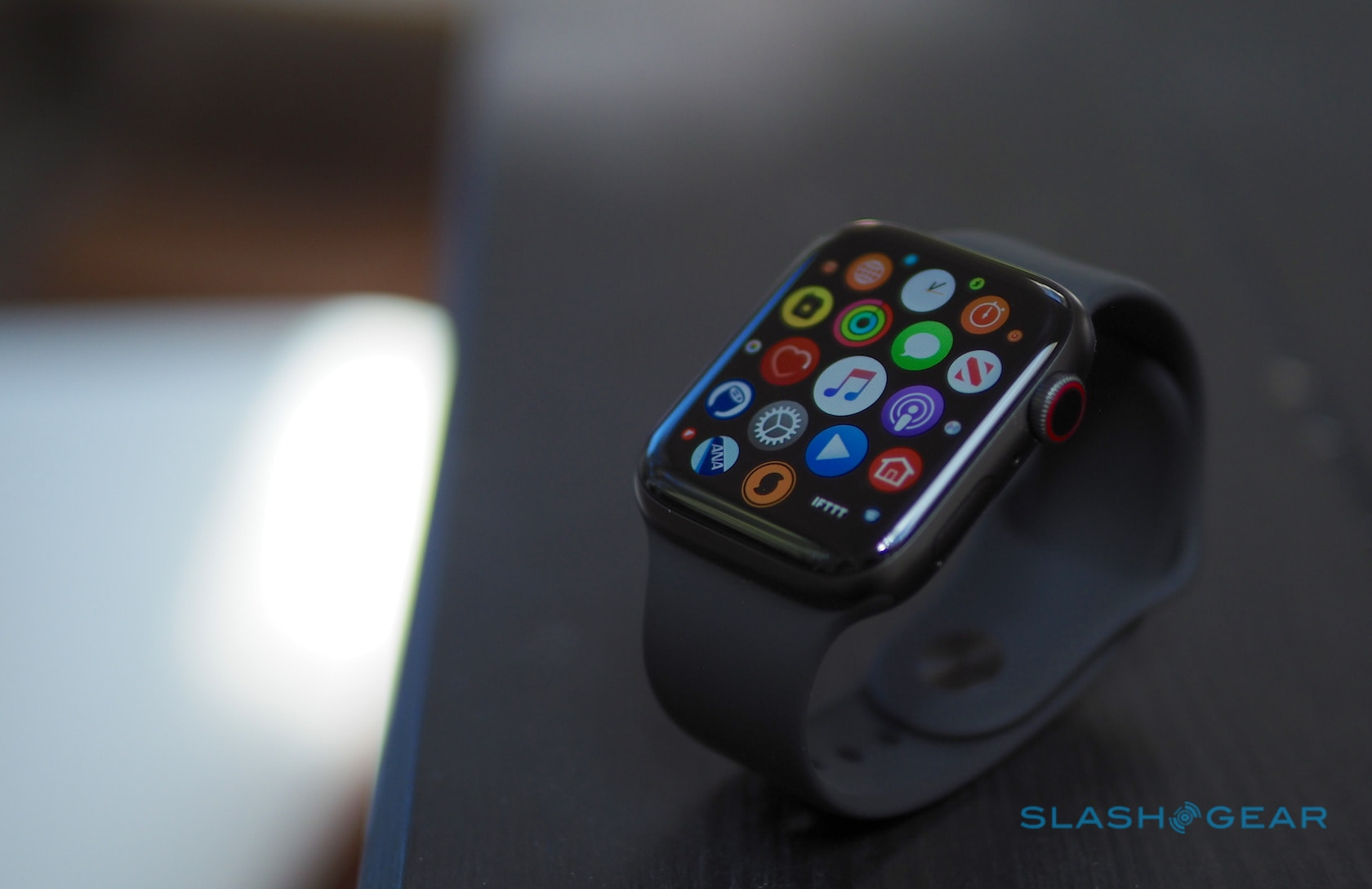 Those who are yet to take the Apple Watch plunge, however, or who perhaps have a Series 3 or older, may well be more interested. The ability to check the time and other details without having to fully wake the smartwatch, and without an ensuing hit on battery life, addresses one of the lingering criticisms Apple's wearable faced. If the list of key improvements over last year's model is relatively short, that's really more about the reality that the Apple Watch is the best smartwatch around right now, and the fact that it already was last year, too.
Personally, it was with the Series 4 that I finally started wearing an Apple Watch full-time. This new version has crossed off my primary complaints. Pretty as the titanium and ceramic models are, I still think the sweet spot is right down at the entry-level, where an aluminum Apple Watch Series 5 is more than competitively priced.