So far, the Apple Watch Hermes band has been one of the most impressive collaborations between the tech giant and a high-end fashion brand. Unfortunately for those who are fans of the French brand, the only way to get the luxury accessory was to buy the Apple Watch that comes paired with it; if you already own the smartwatch, you're out of luck. That's changing later this month, the two companies have revealed, as the Hermes band will start being sold separately on April 19th.
In addition, fashion-inclined Apple Watch owners will have new color options to choose from when selecting a Hermes band. The three existing band styles — Double Tour, Single Tour, and Cuff — will now come in fauve brown, feu red, blanc white, bleu paon green and blue saphir.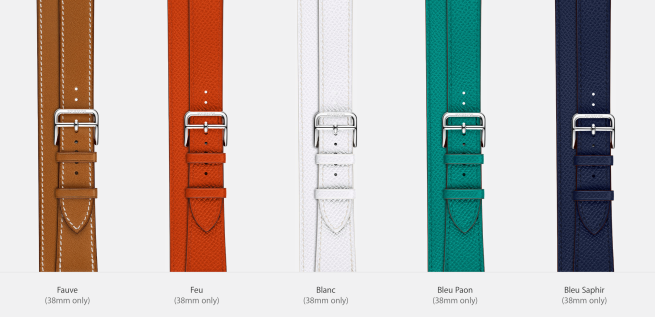 The new standalone Watch bands will be sold from both Apple and Hermes locations starting April 19th. However, certain color options are dependent on the band style and size. The Apple Watch section of Hermes' website has been updated with details on the color and style options, while the pricing starts at $340 for the Single Tour band, with the Double Tour at $490, and the Cuff at $690.
While the Hermes bands definitely come in at the premium/luxury end of Apple Watch accessories, they join a wide range of new bands from Apple, giving customers plenty of options for customizing the look of their smartwatch. Late last month Apple introduced the Milanese Loop in Space Black, along with new nylon bands in a number of colors.
SOURCE Elle