Apple Watch available in-store in Australia, UK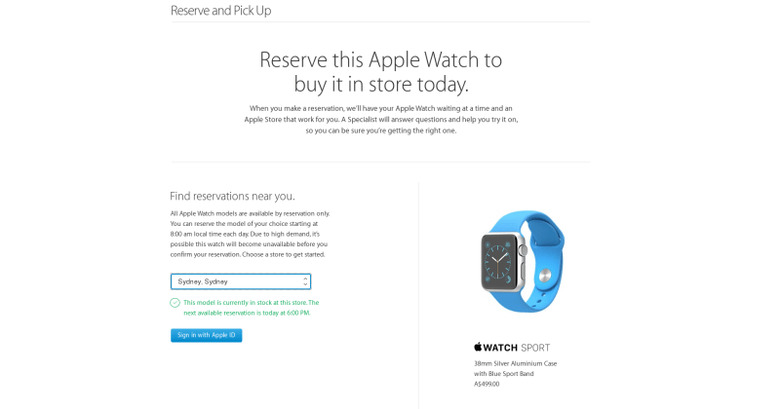 Perhaps the demand for Apple Watches have become so great that it is no longer wise to delay its brick and mortar store appearance. Or maybe it's the other way around, with rumored sales problems forcing Apple to make its first smartwatch more visible. Whatever the reason, it seems that Cupertino is a week early. The Australian Online Apple Store has started accepting requests for reservations and pick-up of Apple Watches from its stores, marking the start of the second retail phase for the smartwatch.
Apple originally scheduled the Apple Watch to become available in-store on June 26 but has seemingly stepped up the pace. Of course we're not privy (yet) to reasons why, so we're mostly speculating. But would be buyers probably don't care as much for reasons, as this move would let them more easily get their hands on an otherwise rare device.
You can't just walk into a store and buy one of the shelf though. For now, it seems you will still have to make a reservation, which would allow you to pick up the smartwatch yourself. It shouldn't be surprising, however, to see that only a few models are readily available, limited to the Sport models and the stainless steel version. The Space Black stainless steel Apple Watch is still available only online as well as the even rarer golden Apple Watch Edition.
Australia isn't th only one doing so, however. The UK online Apple Stores are also showing this "Reserve and Pick-up" option. The UK, however, started later than their Australian counterparts, probably because of timezone differences. One would hope that it would mean that the US might get theirs soon too, though the option to make an in-store reservation remains unavailable on the US online store.
VIA: Apple Insider