Apple Watch, Apple TV now run DOOM thanks to Facebook devs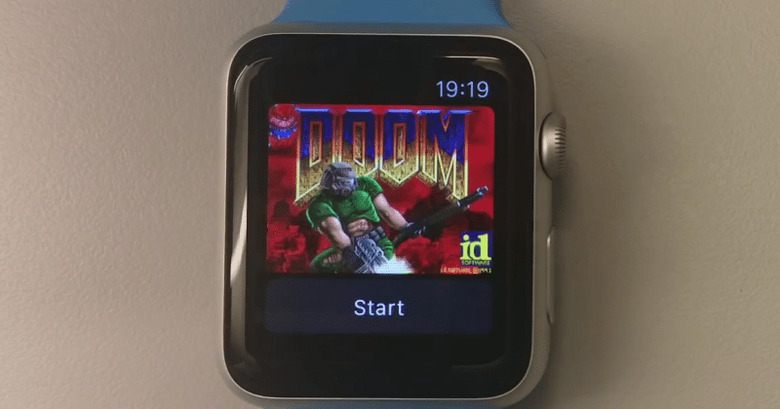 It is a running joke tradition among gamers and computer geeks that a computer isn't really a proper computer until it can run DOOM. The very first DOOM, that is. Well, now you can consider the Apple Watch a proper computer. And the Apple TV too, of course. A pair of developers from Facebook's Tel-Aviv office spent their specially designated hackathon time to play around with iOS. And what better way to do that than by porting DOOM to run on Apple's latest non-desktop, non-mobile devices.
Why DOOM? While quite dated by today's standars, DOOM was a technical marvel and work of creative genius for its time, one that catapulted the likes of John Carmack, who coincidentally now works at Facebook via Oculus, to fame. In an age of 2D side scrollers and point and click adventure games, DOOM's "fake" 3D experience, not to mention unprecedented violence and gore, set off a new trend in PC gaming. In short, it became an icon in the industry and, thanks to its lightweight nature, became the perfect guinea pig for flexing programming muscles on unconventional computing hardware.
Running also unconventional programs on smartwatches isn't exactly new. After all, we've seen PlayStation One emulators and even Windows 95 running on some. But this is Apple we're talking about, which makes that feat all the more noteworthy. And the game is running natively on the watch, not via some emulator, which would have slowed down the game to a crawl.
As you can see, it isn't the fastest smartwatch game in the world, nor the easiest to control. Special sections of the minuscule screen are assigned to what would have been keyboard controls. Still, for a 10-hour ad hoc project, it's still a cool achievement.
In comparison, the Apple TV port might sound less impressive, especially given the device has considerably more powerful hardware. Still, an impressive job well done.
VIA: VentureBeat