Apple Watch: Airline companies are the latest to develop new apps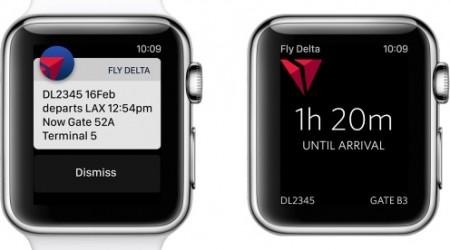 With the Apple Watch hitting the market April 24th, developers are rushing to get their apps ready in time, including the big airline companies. Each airline wants to make it as easy and care-free as possible to fly with them. As a frequent flyer myself, I will welcome any innovations that alleviate even a fraction of the stress of frantic air travel. Let's take a look at the new apps underway from American, British Airways, Delta, and United Airlines. Rumor is, they plan to make the most of the smartwatch's at-a-glance display.
Pretty much all of the flight notifications that you would normally see on your smartphone app will be right at your wrist with this new wave of apps. All of the airlines seem to offer the same features like flight information, a countdown to arrival, gate number, weather, and more at a glance. This is a long way from years ago when we could only fumble through hard copies to find a crumpled boarding pass. Later, smartphone users still had to sort through emails to find pertinent flight information. By bringing this flight info to the Apple Watch at-a-glance display, it should be much easier as you simply swipe right to sort through flight information.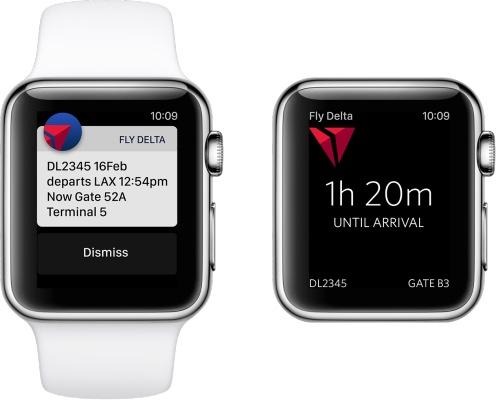 Delta is working on an app that offers the standard fare of other airline apps and can also access boarding passes from users smartphones, allowing check in at the swipe of a wrist.
United Airline's app will also have the wearable boarding pass along with the added ability to alert you to delays and gate changes. American Airline's App will offer the same features, including details about connecting flights.
Not to be outdone, British Airways will also allow you to check in by a swipe of the wrist, and when users enter London's Heathrow airport, they will get a welcome message display which is pushed from Apple's iBeacon technology.

Virgin America and Southwest aren't working on any Apple Watch apps yet. We can hope that they are focusing on the Android Wear platform instead, but it's more likely that they are waiting to see if the Apple Watch becomes popular before investing in new apps.
Source: MacRumors