Apple TV Updated With MLB And NBA Live Streaming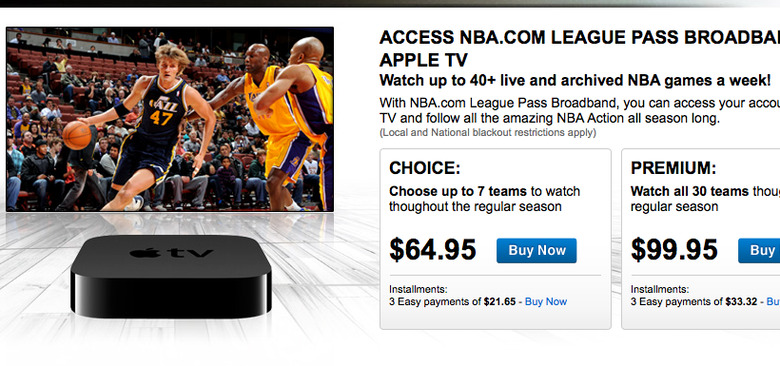 Sports fans rejoice as the latest update to Apple TV allows live streaming games for NBA League Pass and MLB.TV subscribers. The update also includes new support for AirPlay to stream from iOS 4.3 devices and support for Dolby Digital 5.1 surround sound with Netflix movies and TV shows.
NBA League Pass has two subscription models for online streaming, a $65 option that allows you to track your favorite 7 teams, or a $100 option for unlimited streaming. League Pass streams online content that can be accessed by computers and has mobile apps for Android and iOS. MLB.TV was previously available on Roku and Playstation 3 for streaming. It also has two subscription options with a $100 standard package and a $120 Premium package which gives you home/away broadcasts, multiple camera angles, and in-game DVR capability.
This is a pretty awesome deal for anyone who is a sports nut and needs to follow multiple teams across the league. The NBA is nearing the close of the regular season with the playoffs coming up and the MLB is in the middle of spring training and the long baseball season is about to kick off soon. So it's a perfect time for you to pick up an Apple TV for $100 and start streaming all the sports you can handle.
The update also includes new AirPlay support for third-party iOS 4.3 apps allowing you to wirelessly stream video from your iPhone, iPad, and iPod touch. Along with this is support for Dolby Digital 5.1 surround sound when watching movies or TV shows from Netflix. New slideshow themes for viewing photos, improved on-screen keyboard, and some security fixes round out the the new features of the update.