Apple TV Torn Asunder By iFixit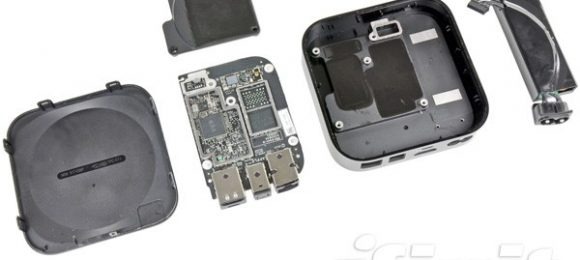 As is customary, the folks over at iFixit have begun their tear down of a brand new gadget, trying to find out what makes it tick, as well as how to take it apart and put it all back together. While there may not be as many surprises as one would hope inside the little black box, there are some pretty interesting take-aways from the tear down. Like the amount of memory therein, the RAM available, as well as the few random parts from other Apple devices.
First and foremost, you'll find that the Apple TV has a hearty 8GB of internal storage on offer. It's the same Samsung K9LCG08U1M NAND Flash chip that's found in the iPad, as a matter of fact. The similarities don't stop there, though, as you'll find the same exact Apple A4 processor in the Apple TV as you would the iPhone 4 and iPad (K4X2G643GE), and the same Broadcom BCM 4329XKUBG 802.11n WiFi, Bluetooth, and FM chip.
There's also 256MB of RAM available in the Apple TV. The tear down is still happening, and iFixit is still going through the process of finding out all the interesting parts that make the Apple TV tick. So, if you're interested in seeing where it goes, head on through the source link below.
[via iFixit]