Apple Top US Smartphone Manufacturer; Android Pulls Ahead Of iOS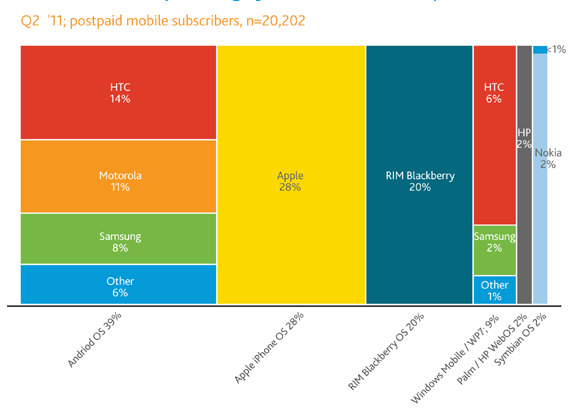 Apple is the top smartphone manufacturer in the US, according to the latest Nielsen statistics, despite iOS not having the biggest share of the OS ecosystem. According to the stat company's June figures, iOS is running on 28-percent of smartphones, in second place behind Android with 39-percent. However, because multiple OEMs use Android, no single manufacturer has the scale to rival Apple.
HTC is the largest Android user, with devices running on the platform comprising 14-percent of the market, followed by Motorola with 11-percent. RIM's BlackBerry OS – again, with only RIM using it – scores 20-percent on both fronts, while Windows Phone 7 is perhaps the surprise in fourth place, amounting to 7.9-percent (along with its predecessor, Windows Mobile). Of the Windows Phone OEMs, HTC's multi-device range puts it at the top spot.
Symbian's minor place in the US smartphone segment is clear, with just 2-percent of the market, sharing fifth place with HP webOS. Nielsen doesn't make any predictions for the future, but the imminent arrival of iOS 5 and the iPhone 5 is likely to see the figures jump around again, as well as Microsoft's Windows Phone 7.1 Mango update in September.