Apple teases Monday event with "livestream" of empty Jobs Theater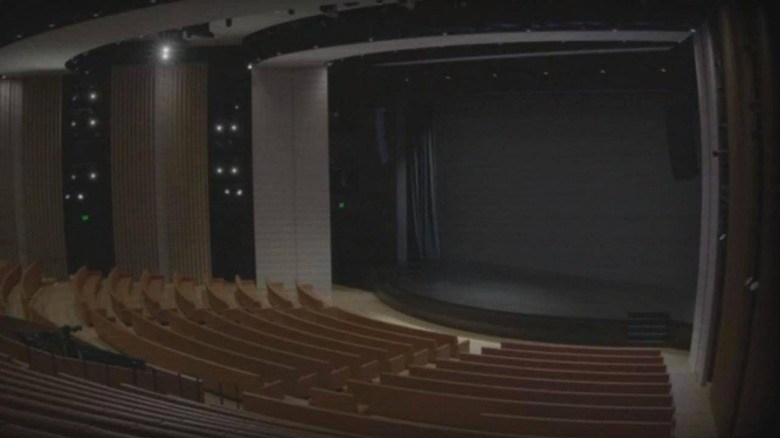 Apple's event on Monday, March 25, is expected to largely be bereft of new hardware announcements or software updates. Despite that, the tech and entertainment worlds are all eyes on what could be a decisive turn in Apple's business. As if to make sure those eyes are tuned in this early, the company has put up a "livestream" page to show how it's preparing for the event, while dropping some hints at what can be expected tomorrow.
It's not a genuine livestream, of course, but Apple should be given props for making it look like one. The feed has been running for hours but might very well be a long pre-recorded video that's looping over and over again at certain times. The "cameras" show an empty Steve Jobs Theater and cut to different angles, occasionally showing some personnel cleaning up the place.
More interesting, however, are the "events" that interrupt the livestream. The mostly black screen on stage cuts to a call from Chris Evans which, of course, doesn't get picked up. The actor most popular for portraying Captain America in Marvel Studios' films is also working with Apple on the "Defending Jacob" series based on a novel with the same name.
Also spotted during the hours-long stream were screenshots of iMessage conversations between Apple CEO Tim Cook and NBA star Kevin Durant. Apple is working on an original series based on the basketball player's early life and is expected to formally announce it tomorrow as well.
Given these hints, Apple itself pretty much confirms the event's focus on its service, particularly original video content. The company is also expected to finally announce its much-rumored news subscription service though, perhaps due to its controversial nature, has opted not to drop any teaser. Tomorrow's event will set the stage for Apple's transformation from a company best known for its iPhones and Macs to one that offers a wide variety of services, especially streaming and subscription services.