Apple SVP: iPhone 5 Scratches Are "Normal" For Aluminum Products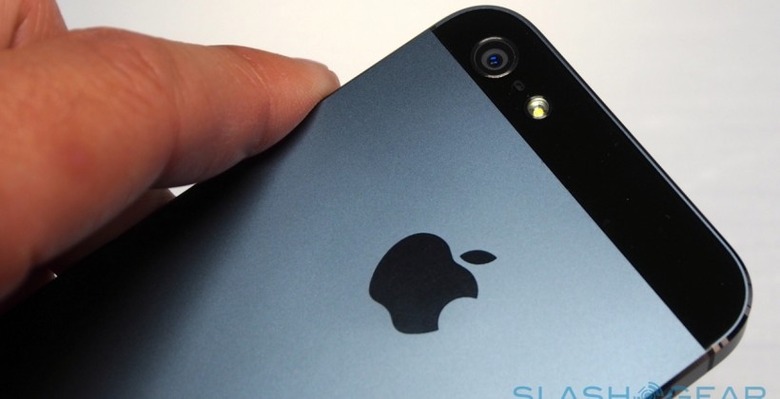 Apple's new iPhone 5 went through quite the transformation regarding the rear of the device. Gone is that glass panel that seemed to be breaking and shattering for many users, and this time around they've replaced it with an extremely durable aluminum panel. While drop and durability tests have seen impressive results, that aluminum is getting scratched extremely easily — with some coming scuffed out of the box.
We've seen reports that some users have received brand new iPhone 5 smartphones with small scratches, scuffs, and dents on the aluminum right out of the box. That is a big problem especially if I just shelled out full retail cost. Not only that but the aluminum that covers the rear of the new iDevice appears to be extremely easy to scratch. While it makes drop protection solid, daily use you could see that iPhone 5 scratched up within a matter of days. Over at 9to5Mac they reached out to Apple regarding this new design and didn't get a very good answer.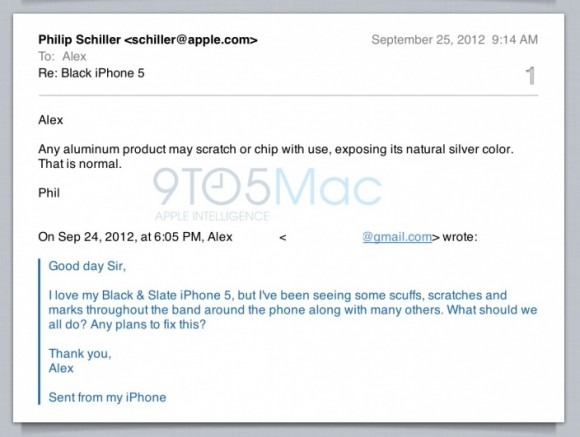 According to 9to5Mac, one user sent out an email to Apple's Senior VP of Marketing Phil Schiller and the answer they got in return wasn't exactly what they were looking for. Instead of possibly suggesting a case, or addressing the situation he simply stated what you see above, and quoted below.
Any aluminum product may scratch or chip with use, exposing its natural silver color. That is normal."
Now obviously his answer is correct, as we've all probably scratched something aluminum. That isn't the point though. The point is this is a growing concern among many users, as the device seems to scratch rather easy compared to previous models. The anonymous email user also asked for suggestions or plans to fix the issue, and that was pretty much ignored.
While we don't particularly like Phil's reply, at least he's up and answering customers emails at 6:00 AM over in California. This poses a question. Would you rather have the iPhone 4/4S glass back that is durable yet shatters with drops? Or the iPhone 5 aluminum design that is much improved from drop protection, but might get scratched extremely quick?