Apple stores to mysteriously close early Nov 17 and 18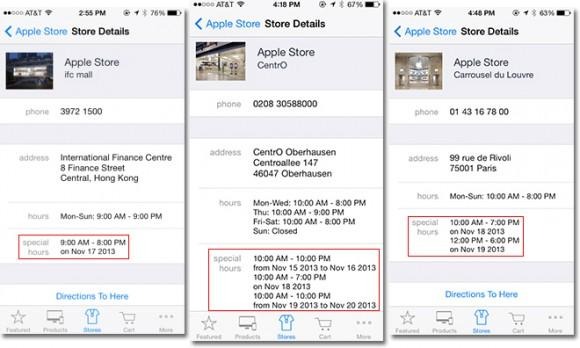 A number of Apple stores around the world are mysteriously set to close early next weekend. Several stores in Canada and stores in other countries will be operating under special hours on November 17 and November 18. Exactly why the stores are closing early is unknown.
Stores in several countries around the world will be operating using a special hours including Apple Stores in Canada, China, France, Germany, Hong Kong, Italy, Japan, and Spain. Interestingly no US stores are listed as operating with special hours on November 17 and 18th. The stores in Germany have different hours than the others with 10 of the 12 stores within the country closing on November 18.
The Apple Store in Dresden will also be closed the entire day on Wednesday and will close early on Monday. The Apple Store in Oberhausen will be staying open late on Friday and Saturday evenings and closing early Monday through Wednesday. If you plan on doing any shopping at the Apple Stores in any these countries, you should check hours before you go.
Apple is gearing up for the launch of the retina iPad mini this month and the new Mac Pro in December. It is odd for the stores to be closing early on random days for those product launches. Apple typically holds special events and product launches at the stores on Fridays making the odd hours even more puzzling. Some speculation is that the strange store hours have to do with pre-holiday meetings.
SOURCE: Apple Insider