Apple Stores may offer carrier early termination plans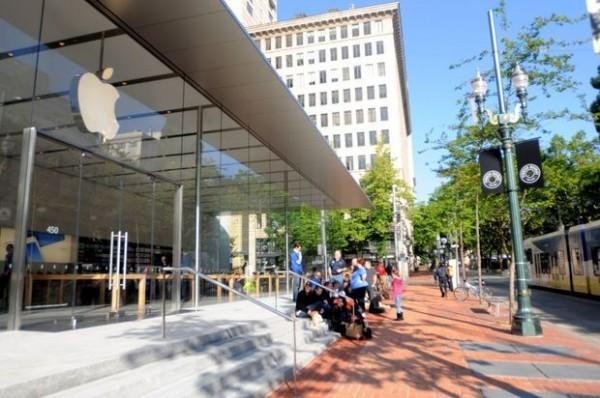 After T-Mobile broke down the subsidy wall, all other carriers of note followed suit. Apple had enjoyed a close relationship to carriers with the subsidy model, but the new thinking is apparently coming to Apple Stores as well. Starting later this month, you might be able to buy your iPhone using a monthly installment plan from your favorite carrier.
Leaked screenshots sent to 9to5Mac show each carrier's respective early termination/device payoff scheme listed. Verizon's Edge, AT&T's Next, and T-Mobile's Jump are all listed. Sprint's new One Up program is missing from the fold, though.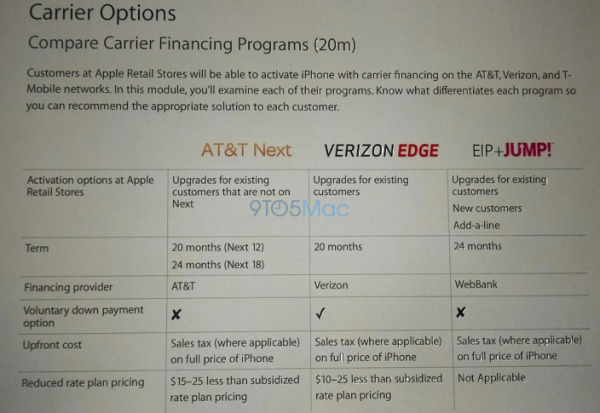 In looking through the plans, nothing seems to have changed from what you could get in the carrier stores. This follows-up on Apple's prepaid option via AT&T, where an iPhone could be purchased outright and activated on AT&T Go straight away.
In making this move, it's worth speculating that Apple won't have the iPhone 6 readily available at carrier stores on launch day. It seems anyone interested in grabbing the newest iPhone may need to head down to the Apple Store nearest them at first, or wait for it to hit carriers (which probably wouldn't take long).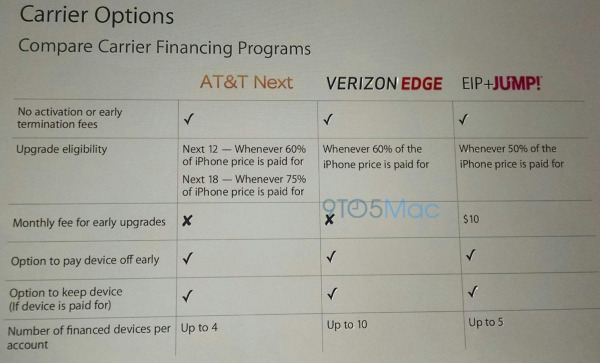 The leaked screenshots are said to be from internal Apple training slides, part of a soft rollout on August 20th.
Source: 9to5Mac