Apple Store online refreshed with iPad Air, Mac Pro 2013, new MacBook Pros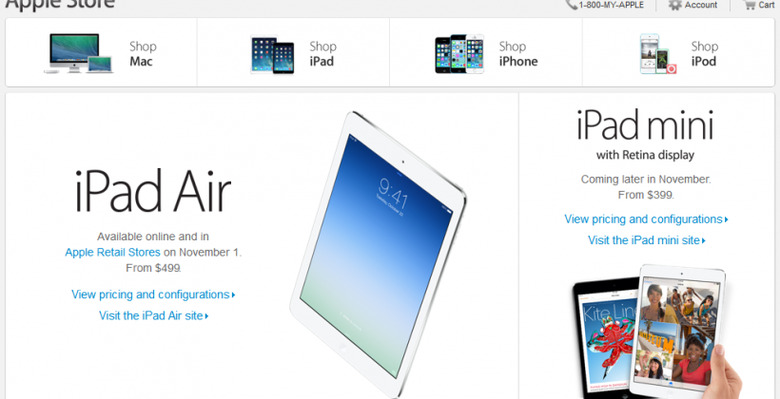 Apple has just updated its online store with the new products it has been officially unveiling today at the iPad event we've been liveblogging. Most notably, Apple has eliminated the 15-inch MacBook Pro with optical drive, but kept on the 13-inch version due to its popularity among students. Featured front and above the fold, the iPad Air commands the refreshed store.
iPad Air, which we got our hands on earlier today, is being positioned as Apple's latest and greatest, at least momentarily replacing the iPhone as the company's flagship product. The tablet is about one-third lighter than its predecessor and the beveled edges give the device a markedly different feel. The A7 processor gives it a powerful performance boost as well.
Today's event along with the change to the store is a concerted effort on the part of Apple to stay ahead of the Android tablet curve. The market is currently split about 50/50 between Apple and everyone else. Mini tablets especially are a battleground product; Apple will release the Retina iPad mini in November.
The MacBook Pros released today by Apple are also prominently featured on the front page. The big news with these laptops are the Retina display, now officially available in 13- and 15-inch models. The quad-core and six-core Mac Pro 2013 are also there in all their cylindrical glory. Changes to the store may continue to be rolled out over the afternoon; we'll keep you updated.